Claudia Brücken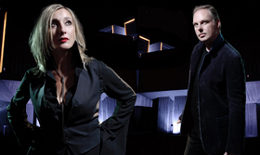 Claudia Brücken used to sing with 80s Dusseldorf electro wonders

Propaganda

. Paul Humphreys was one half of

OMD

. Together, they're new electro duo Onetwo, and they've created one of the sleekest and sophisticated pop albums of the spring.
So where are you based now Claudia - Germany or England?
Oooh, I've been in London for 22 years. After we released 'Dr Mabuse'. I fell in love with an English man and fell in love with London. Propaganda are one of the few 80s bands to resist reforming - has there been any temptation? We tried actually. I always felt that the label, ZTT, was just as important as the band. We really thrived working with Trevor Horn and Steve Lipson. When we split in 1986, I wanted to stay with ZTT but the others didn't want to stay. The energy we had then as a band, it just didn't happen again. They tried to revive Propaganda with another singer, and then I worked with Michael and Susanne again for three years, from 1988-2000, working on an album, but it didn't quite work, and we didn't have the investment or money. A Secret Wish was a very expensive album in terms of production.
How did you meet Paul Humphreys?
In 1998 I was working on my second solo album, and a German record lable, Logic, wanted to sign me. An A&R person approached Paul at the Midem conference, and asked him if he'd like to work with me, and he phoned me himself to say he'd love to work with me. He got me touring again - we did a tour of America performing old OMD and Propaganda stuff, and we really enjoyed working together.
Martin Gore from Depeche Mode co-wrote your first single - how did he get involved?
It was around the same time. He's so lovely. I was looking for writer and Martin's a mate of mine - he used to live quite close to me in London. I was working on a song and I got stuck, so I called him to see if he could help. He was reluctant to co-write with me as he never really co-writes with anyone, but he asked me to play it to him, and then called me up a couple of days later and said 'I think I've cracked it.' He's so sweet.
This album was first mooted for release in late 2004 - why such a delay?
That was a very optimistic deadline that Paul put forward but it was a bit unrealistic - we just kept adding songs and re-working them, and then I did another album in between with Andrew Poppy, which we released on our own album, which Paul co-produced. This album was finally finished in August, but we didn't want to put it out in the Christmas market - we wanted to wait to the new year.
Onetwo made history by being the first act to release material on eBay (a five-track EP called 'Item' in June 2004) - what was the idea behind that?
We just wanted to find a way of allowing people to get hold of us, and lot of people are collecting OMD and Propaganda stuff on eBay, so they could find us that way. We just wanted to try something new and see what interest might be out there. We released it exclusively on eBay, and we're still selling copies, nearly two years later!
Do you think that artists nowadays have a little more control - what with being able to put their music on the web to download - or are you still at the mercy of a record label?
I think it helps people like Paul and I. People still remember us from the 80s. I think things like myspace really do help. I've discovered fantastic music on myspace which I would not have otherwise discovered. In that sense, there's a punkier attitude to music promotion.
A bit more DIY?
Yes, DIY... not that there's anything home-made about our sound though. We wanted it to sound very luscious and rich and well-produced. I think that's another reason why it took us so long!
The single, 'Cloud 9' is released 5 February 2007. The album, Instead, is released 12 February.

An abridged version of this interview was published in Out In The City, February 2007 © David Hudson

For the latest news on Onetwo, check out their website
here
.
And while there's no Onetwo videos on the net, a reminder of a past glory...