About Mr Hudson
I was born in Blackpool, England, in 1969, but my family moved down south in 1972, and I was raised in the small town of Newport Pagnell, on the outskirts of Milton Keynes.
In 1987 I moved to London, to study medicine at University College London. However, after four years I switched courses, and left with a sociology degree and the prospect of an uncertain future (isn't the future always uncertain...?).


I fell into journalism by accident, writing reviews of London nightclubs and bars. I became the editor of Boyz magazine - a position I held from 1998 till 2006. I left Boyz in August 2006 and since then have thrown myself into freelance journalism. I have written for The Guardian, Attitude, New!, OK! and contribute regularly to London Lite. I have also started to recently taken on the duties of freelance editor of Out In The City, a new monthly magazine for the London gay scene. I am open to any further interesting freelance commissions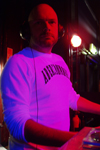 Outside of journalism, I enjoy DJ'ing, and have inflicted my own eclectic brand of indie, electro, dance and pop to crowds at clubs and bars as diverse as Central Station, South Central, Ghetto (Miss-shapes), Popstarz and the ICA (Duckie's Queer Morrissey convention).


Besides an interest in the cinema, music and photography, I've recently thrown myself into web design, studying XHTML, CSS, Flash and Javascript.... just to see where it might take me. Check the links for examples of my HTML and past writing work.
I set up this website to practice my design skills, showcase some of my written material, and to reach out to the wider world with my thoughts and opinions... should anyone happen to stumble across them. To offer feedback, email me here.