Dorian Wood
June 2008 - Piano man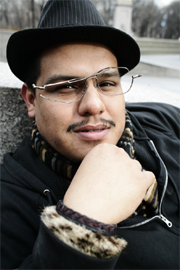 L.A-based Dorian Wood has released one of the year's finest debuts in the shape of Bolka. David Hudson caught up with the man following his first London shows...
Each month at
Out In The City
we get sent dozens of CDs, many from new acts desperate to be heard. Most of them, sadly, fail to achieve anything more than a couple of minutes on the office stereo before being filed in the 'Ones Not To Watch' litterbin-shaped receptacle on the floor. Gems are few and far between, but when the debut album from L.A's enigmatic
Dorian Wood
landed on our desk, we knew we'd stumbled across something rather special. From the stomping ragtime of 'The Mutual' and swirling 'No Home For A Funeral' to the bewitching 'Watsonvilled' and eerie harp strings of 'The Stronghold Passage', it's a tour-de-force of eclectic, hypnotic folk-rock. Catching his recent performance at North London's Bar Wotever confirmed our suspicions. Here was a genuinely exciting and beguiling talent; a bluesy piano-thumper that could stand comparisons with such luminaries as Tori Amos, Tom Waits and the White Stripes, by way of Marc & The Mambas and Anthony & The Johnsons.
Thirty-three year old Wood was born in L.A's Echo Park district and raised all over Southern California. He played his first piano concerto at the tender age of five, chiefly inspired to take up music by his grandfather.
"I owe it all to my grandfather, Calasanz Alvarez. He was an accomplished pianist in Costa Rica back in the 1940's and 50's. He lives in Florida now. Just turned 92. He's a monster on those keys. I wanna be a monster."
He spent his childhood writing "little ditties", before attending a high school of the arts in Costa Rica. "I studied theater, piano and classical voice. After I graduated, I moved to L.A. and went to film school. I dropped out after a few semesters. The instructors were less than inspiring. I got depressed and I locked myself up in my bedroom for months, recording weird little songs onto my boombox and then onto a karaoke machine. I eventually progressed to recording onto a computer, where I created a demo that led to the formation of my first band,
The Dorian Wood Guilt Trip
."
The outfit specialised in spacey art-rock and blues but drifted apart after a couple of years, leading Wood to form experimental gospel choir
The Northern Embers
. After a year with them, Wood plucked up the nerve to go solo.
"Nina Simone is, and always will be, a big inspiration," he cites in terms of his heroes. "I also love Tom Waits and Nick Cave. I secretly want to be Yma Sumac when I grow up."
Like Waits and Cave, Wood's subject matter veers towards the dark side. Much of beautiful debut album
Bolka
details the aftermath of soured love affairs, with Wood sounding in a particularly vengeful mode, whether observing on 'The Real' that 'No-one breaks my hearts and lives' or murderously crooning 'struck him in the head one, two and three, is how I made him love me' on 'Pianos and Bricks'. Has Mr Wood been badly burned in relationships?
"Of course. I don't think I stand alone on that one, and yet, I have no difficulty believing, from time to time, that I do stand alone in heartbreak. Which I reckon means that it's something very precious to the individual regardless of how many times the subject is covered in art and music. I've been single for about two years now, and I'm deathly afraid of changing my status."
Reassuringly, he is quick to dispel any notions of vengeance in his lyrics.
"I have never been vengeful. I have my mother's wisdom and faith to thank for that. However, I am one dark motherfucker. I am hopelessly incapable of painting a pretty picture, musically and literally! Even when I try, someone bleeds. God bless my little black soul."
Despite
Bolka
's jaw-dropping beauty, Wood has yet to have signed to a record label, producing and distributing the album himself and relying heavily on the internet to spread the word about his music. "I've actually shopped around to some indie labels. I still am shopping it around. Right now, I'm doing my own promoting and booking. It's a full-time job. Naturally, it takes away from the songwriting process, so I'd be delighted if a label helped out with duties! I do what I can, but there simply aren't enough hours in the day. That said, I'm very, very pleased with what I've been able to accomplish on my own so far."
Live, Wood typically likes to put on a show, donning everything from a black dress and matching veil to an... um, Eeyore costume ("I suppose record labels don't generally go for this kind of creative restlessness"). He played his first London shows in April - an experience he describes as "Incredible. It was cold and wet the whole time I was there. And there was so much human warmth to balance it out. Also, lots of alcohol! I hope to make it back by September."
Ahead of that,
Bolka
is available to download from iTunes. Word of its greatness is beginning to spread. I put it to its creator that it's the type of music that might pick up a few weird fans.
"They're all weird," he chuckles. "We're cut from the same cloth."

Dowload
Bolka
, the debut album by Dorian Wood, from
iTunes
or from
cdbaby.com
.
www.myspace.com/dorianwood
www.dorianwood.com
An abridged version of this interview was published in Out In The City,
June 2008 © David Hudson