Gok Wan
November 2009 - Looking Good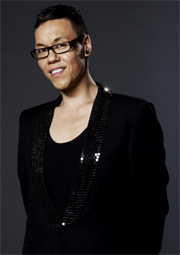 From humble beginnings growing up in Leicester, Gok Wan is now one of the most recognizable faces in British media, with the success of How To Look Good Naked and other TV presenting roles, and a couple of best-selling advice books under his belt. The star has always been completely open about his sexuality and about his own earlier problems with self-esteem and body image. It's just one of the reasons that he so well-liked, and why he was an obvious choice to host this year's Stonewall Awards, which take place at the V&A in London on 5 November.
Did you always want to work in fashion?
No, I wanted to be an actor from a very early age. In fact, a comic originally and then an actor. I trained at college for three years and moved down to London to go to drama school. I did that for a year but was just really bad at it, so I left and bummed around. I kind of fell in to fashion accidentally. It wasn't my intention at all. I never even knew what a stylist was when I was 20 years old. I started off doing hair and make-up originally, and then started doing the fashion by chance.
So there was no career path to end up where you have?
No, not at all! When I was younger, I envisaged working in my dad's takeaway for the rest of my life. I didn't think there was going to be any world beyond packing prawn crackers in Leicester. And then when I moved down to London I saw that there was a whole world away from the wok, and yes, it was all by accident. In fact, a lot of the stuff I've done has all be through chance.
What was your first break on TV?
I started doing some sofa stuff. I did T4. I remember talking about
The OC
's clothing with June Sarpong. I commented on the BAFTAS for Lorraine Kelly and GMTV, and after that I did a show, just before
...Naked
, called
Make Me A Grown-Up
, which was a daytime educational show for kids. Then
...Naked
happened and it all kind of took off from there, but again, accidental. None of it was choreographed or thought out, unless there was someone out there doing it for me and I was very unaware.
So do you now have a career plan, or do you continue to leave it to chance and see where life takes you?
I definitely have
more
of a plan now because I have to - because of things like having contracts and stuff. The job that I do, you have future committments, so I definitely need more concentration on my diary and it goes further than it ever did before. When I worked on TV before, I worked as a stylist and would literally work on a job for a day or a job for a week, or work on a music video for a couple of weeks, but that was the length of my contracts, so now I'm having to plan because I'm trying to fulfill all my contracts. Where is this going to take me in my career? What will I be doing in five years' time? I have no clue. I don't really know. I know it will still involve fashion, but I don't know whether it will involve television or radio or America or whatever really - I'll just let it happen.
How do you like to relax?
I get very little time to relax, I'll be very honest. I spend time with friends and family. Whatever we do together doesn't really matter, but I need to get away from everyone in TV. Get away from everyone in fashion, and just be with my core set bunch of people that really are my ground, whatever we do, whether that be going out to a movie, going out for dinner, drinking, or just hanging out with my family, it always involves just relaxing.
Are you single, dating or in a long-term relationship?
Maybe... maybe. The only questions I don't really do are the whole relationship thing because I like to keep some parts of myself to myself.
Who is your favourite designer - for both menswear and womenswear?
High end for men, I think Yves St Laurent. I wear a lot of it. I think they do a really nice cut for guys. And Balenciaga as well. For women, I love Chloe, I think it's beautiful. I really love Karl Lagerfield for Chanel. I love a bit of Stella McCartney as well, because her cuts are really great, so it depends on seasons. Everyone always asks you that, but one season a designer will come up with a really brilliant range, and the next season it will look like it's from a different person, but I think they're all pretty strong and quite consistent - at least over the last couple of seasons.
In terms of consistently good menswear, who do you rate on the high street?
For guys, it's got to be All Saints because I think they're quite revolutionary in their cuts, even though they're quite expensive for the high street. They're quite forward-thinking.
Why do you think the fashion industry is so deeply resistant to using a more diverse mix of models?
I think it's fear of change. I think that a lot of the fashion industry, or the magazine industry, say we can't use real size girls because we can't get the samples - because the fashion industry won't produce samples in that size. Obviously there's been a huge debate over the last five years, and people have been discussing it and there have been some differences, for instance, checking models BMI [Body Mass Index] at the Milan catwalks, and different magazines trying to introduce different models, the advertisers using real size women, that kind of thing. I think attitudes are changing but it's fear of that change, and like any institution, the moment you go up against it, it's easier for them to stick with the bible that they've created and followed for so long.
Do you think consumers have to take some of the blame. Are we drawn to unobtainable notions of beauty?
I don't think there's any blame to be had anywhere, we've all created this situation. I think aspirations have been created by the public and they've also been dictated by the industry. I think we've been brainwashed for a long time into believing you have to look a certain way to be rich, successful, attractive, or whatever, but I think those attitudes have changed and it's snowballed over the years and got bigger and bigger. The fashion industry, and the fashion catwalk shows, are all about shock. It's all about the theatre and the drama. For instance, this year, at the shows with the plus-size models on the catwalk, someone walked out on set and it hit all the headlines. It's all about shock. If you take away all that theatre, all that drama, you're left with real people's attitudes. Those attitudes are changing and people are finding a voice. I think the rise of the Dove adverts are one of the most significant campaigns of this century, and shows like
How To Look Good Naked
, I don't think we're entirely responsible, but we've had a hand in change. I think that the more we promote that, and the more than we think about it and get it discussed, the better it will become, because I do truly believe that we should have real people out there being represented. Everyone from a size eight to a size eighteen should be represented.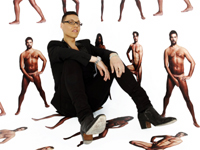 Do you think gay men are particularly hard on themselves when it comes to their appearance?
I think they are in that they're told that they have to look a certain way. They're supposed to have a high disposable income and they're told they have to shop. Also, because homosexuality is still housed in clubs and bars - although it has become more public - because it is housed in places where you tend to get dressed up, that has an effect. Do you know what I mean? Guys and girls are under a huge amount of pressure to go out every single weekend, to be around their friends, to have that sense of community, or if you just want to hold your boyfriend's hand, you have to go out somewhere that you'd probably get dressed up to go - it's part of the culture.
You've talked before about your weight loss - do you find it a struggle to keep your weight down now, or have you happily waved goodbye to bad lifestyle habits?
I do find it a struggle. Even more so now at the age of 35. I lost all the weight through stupid dieting, and I'll probably have to maintain that for the rest of my life if I want to stay this size. I do fluctuate between 11 stone and 12 stone - it goes up and down. And I am careful but I'm not as ruthless with myself as I was before. But, you know, it's become part of my lifestyle. I'm happier when I'm at that weight, and for the sake of my happiness I'd rather stay that size, but who's to say that attitude won't change one day? I might get to 50 and think "fuck it - it's hard work - I'm not gonna bother!"
What advice would you give to a young gay man who was depressed about their appearance?
I would say, first of all, if you're a young gay man you're no different from a young gay woman or an older man or woman. It's about having an honest relationship with yourself and your mirror, and who you are as a person. It's about making the most of what we've got already. It's about finding the balance. And grooming - looking after yourself. Making sure you've got enough time for yourself. Talk to your friends and family about it - don't think that you can't talk about it to them. And then eventually doing something about it - whether it's going out shopping and re-inventing yourself, or just going out and buying a £1.50 bar of soap... it's about looking after yourself and investing some time in yourself.
And you don't have to be a Muscle Mary? There's someone out there for you whatever you look like?
Exactly. There's a huge pressure on gay guys. They wake up at 18, they think 'right, I'm coming out, I wanna get my first boyfriend or my first shag or whatever, and I've got to get down to
Soho Gyms
and pump myself stupid'. It's not like that - it's like young girls being told that they've got to be a size six or a size zero. Especially on the gay scene as well. I love the gay scene because it's really easy to work out what place you're going to visit to pull what kind of guys. You're going to go to Popstarz to pull an indie guy, to one of the muscle clubs to pull a muscle guy, to an alternative night in Hoxton to pull one of the alternative types... do you see what I mean? We fancy lots of different types of guys, and our tastes are not restricted to the clothes someone wears and just one type of look. It is about personality and stuff like that, and people have got to realise that there are people out there who will find you attractive whatever you look like, and I think that the older you get, the easier it is to accept that. I know that I struggled with that a lot when I was younger, and it wasn't until I got into my late 20s that I thought 'do you know what - I've got a lot more to offer than how big my guns are!' It is about who I am as a person, but I found that confidence later on in life, definitely, and I wish I'd know that when I was younger - when I was 18, cos I think I would probably have had a better time. I would have been far more relaxed and enjoyed myself more, instead of being het up about the fact that I didn't look like all the other boys on the scene.
Stonewall are working hard to try and stamp out homophobia in schools. Do you think this is achievable - aren't children always likely to pick on those that they perceive as 'different'?
I think attitudes are changing, especially with kids now, and I'm fascinated by the fact that the age of people coming out has lowered compared to when I was at school. Now you hear about 15 and 16-year-olds coming out. And that's because the next generation are exposed to more gay people on the television and in the media. I think that there will always be some form of bullying, regardless of whatever we do, but what we need to do is to talk about homosexuality, we need it to be part of conversation. We need to get in to schools and make sure that it is discussed as part of sex-education classes. We're fighting for a campaign on How To Look Good Naked to get body confidence taught in schools. If we've got people talking about their bodies and about their physicality and who they are, then I think it takes away some of the stigma and taboo.
Since becoming famous, have you experienced much homophobia?
All the time. On Twitter I get it. I get people sending me "You're a yellow, queer cunt"... that was one message last week. I have to say that 99.9% of people are great, or they say that they love to show, or that 'my sister loves you' or 'my mum loves you', 'I love you', but then I walk down the street and you get the odd van going past and someone yelling 'queer Chinese bastard'. It's no different, in fact, from what I had when I was younger. I'm very used to it. It doesn't really bother me, to be honest. Actually, it does bother me, but I won't allow it to bother me, or affect me, because I don't want them to win.
And within the media?
I think had one blatant comment in the past. I can't remember what press it was, but it was something like so-and-so "from Big Brother is no longer the most annoying Chinese person on television"... which was a racist comment. My nationality is nothing to do with my performance on TV. I understand the references to camp - my sexuality is part and parcel with almost anything that's written about me. If I really wanted to get political about it then I'd make something of being labelled camp...
...reducing you to a two-dimensional stereotype?
I suppose in some ways, but the thing is, I'm
incredibly
happy being gay. In fact, I wouldn't want it any other way. I enjoy my sexuality. I enjoy the benefits of my sexuality, all that kind of stuff. For someone to point out my sexuality is like pointing out someone for having two eyes. It's so obviously a part of my physical and emotional and vocal make-up that it doesn't bother me. I don't even notice it any longer. In some ways, being as out as I am, and overtly sexual on television with some of the stuff that I say, like flirting with the guys when I'm vox-popping on camera, I want it to be as normal as Davina McCall doing
Streetmate
ten years ago. There's nothing wrong with me flirting with the guys on camera and being a bit cheeky. It happens in the heterosexual world, it happens in the homosexual world, and so it doesn't bother me at all. I'm really good friends with Alan Carr, and we went out for drinks on Friday night, and I was saying to him that I feel really proud to be out on television, because I feel that I can be an ambassador for younger gay guys, who might be able to look at me and say "You know what, he's gay, he's Chinese, he used to be fat" - all of these things that are seen by some ignorant people as social disabilities - "he's actually not done that bad, he's doing alright."
An abridged version of this interview was published in Out In The City,
November 2009 © David Hudson