Helsinki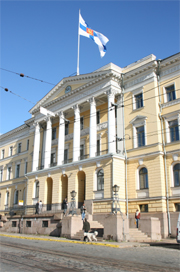 David Hudson enjoys a winter trip to Helsinki, the capital of Finland...
Surely one of the chief reasons to travel is to enjoy experiences that you wouldn't necessarily find at home. I contemplated this fact while reclining in my bathrobe at the
Urjönkadun Uimahalli
(Yrjšnkatu 21b - +358 (0)9 310 87401) swimming baths and sauna in Helsinki, Finland. This beautiful, art deco building, which dates back to the 1920s, perfectly exemplifies a difference in attitudes between our two nations. Whereas UK saunas have a somewhat grubby reputation, Scandinavian countries take their steam very seriously - nowhere more so than in Finland. Although many of its traditional saunas may have died out over the years - to be replaced by more modern facilities - a handful of historical establishments remain - such as Urjönkadun and
Kotiharju
(www.kotiharjunsauna.fi). Saturdays at the former are men-only. For the full experience, you pay your €12 to a little woman at the front desk, who directs you to the upstairs balcony level. Overlooking the downstairs pool, you get your own small cubicle, in which you can relax, read the papers or grab a quick nap. Then you can go for a swim, tie a float around your waist to 'water walk' (imagine some turn-of-the-century experiment in exercise dreamt up by a Dr Kellog-type of exercise fanatic), or explore the various saunas (electric and wood-burning) and steam rooms. You get given a disposal sauna seat to sit upon (a little like an extra-strong sheet of kitchen towel) - as no one wears towels here. I found myself sharing a sauna bench with a dozen young men, who were possibly soldiers going by the uniforms that some arrived in. Clustered around an old, soot-covered metal chimney, emanating its fiery, hazy heat, we were soon sweating like... well, troopers. Never has lazing around with a bunch of naked men seemed so eminently civilised. Where can you find that on a weekend afternoon in London?
My relaxing visit to Urjönkadun proved one of the highlights of a whirlwind weekend trip to
Helsinki
, the capital of Finland. Having made my first visit to Stockholm, Sweden, in the summer, I imagined that Helsinki might be much the same, but there are subtle and important differences. In fact, geographically, Helsinki lies at the border between Scandinavia, Eastern Europe and Russia. Estonia is but 50 miles south across the Baltic Sea, while Russia borders Finland to the east.
Founded in the 1500s, Helsinki pottered along under Swedish rule until the 19th century. In 1809, Russia defeated Sweden in the Finnish War, and Helsinki then underwent a period of rapid growth as the country's capital - with new architecture echoing that of St Petersburg (around 500km away). Today, the city continues to boast both Swedish and Russian influences, as well as plenty that is pure Finnish.
With a population of around 600,000, Helsinki is small enough to wander around on foot. Even better, purchase a
Helsinki Card
(www.helsinkicard.com) from the main train station - this allows you free travel on the trams and underground trains (both fairly easy to use), and free entry to most of the museums and other cultural attractions. They're valid for 24, 48 or 72 hours (30€, 42€ and 72€ respectively).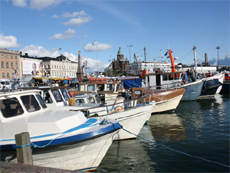 In terms of sightseeing, start at the neo-classical
Senate Square
. It's overlooked by the domineering Lutheran cathedral
Tuomiokirkko
on one side, and flanked by the
Government Palace
and
University of Helsinki Library
. There's also
Sederholm House
- the oldest stone building in the city, dating back to 1757, and now a small museum. In fact, Helsinki, for its size, has one of the highest number of museums of any European city.
From Senate Square, it's but a five-minute walk to
Kauppatori
- the main market square overlooking the harbour (
pictured above
). You'll often find flea markets here, as well as a traditional indoor market hall selling everything from smoked fish and dried reindeer to vodka and more exotic liquers. There are also occasional big events such as the annual herring festival, taking place on the weekend of my visit, when weather-beaten fisherman from all along the Gulf of Finland turn up to sell their (predominantly pickled) wares.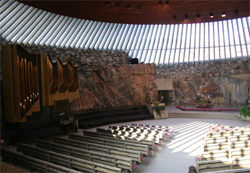 If you're a fan of churches, overlooking the harbour is the imposing orthodox
Uspenski Cathedral
, a Russian orthodox cathedral, topped with eye-catching gold cupolas (the onion-shaped domes).
There's also
Temppeliaukion
(
pictured
); the Church in the Rock. Built in 1969, this Lutheran church was carved into solid granite, and topped with an astounding copper ceiling and dome. It's one of Helsinki's most popular tourist attractions, pulling in over half a million visitors a year.
For a good overview of Finnish history, visit the
National Museum Of Finland
(www.nba.fi), which is near the rather Soviet-looking
Parliament Building
and opposite the acclaimed
Finlandia Hall
(www.finlandiatalo.fi). For a more modern taste of the country, you must visit
Kiasma
(www.kiasma.fi), the stunning Contemporary Art Museum. The building is a work of art in itself and the exhibits range from the kooky to confrontational, with regular, visiting installations. There's also a great gift shop and designer café.
On the subject of food, Finnish cuisine is not for the squeamish. As hunting and fishing are so much a part of Finnish life, this is heavily reflected in its national culinary traditions. Offering a decent-priced selection in the centre of town is
Aino
(www.marcante.fi), where you can enjoy a plate of sautéed elk and red deer with mashed potatoes and lingonberries for €17. That's positively conservative compared to
Saaga
(www.asrestaurants.com), a Lappish restaurant offering bear meatballs (€47.20) and 'Reindeer of the Northern Lights' (€28.20). Vegetarians beware! For a less controversial bite to eat, take full advantage of the city's flourishing café culture.
Café Ekberg
(www.cafeekberg.fi) has been running for over 150 years, and it continues to do a roaring trade in afternoon teas and traditional cinnamon-flavoured pastries.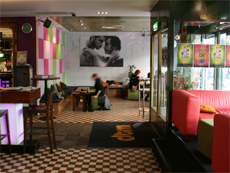 Helsinki's gay scene is fairly small and is mostly clustered around an old part of the town centre that's also - perhaps not coincidentally - popular with small designer stores and chic boutiques. Begin your evening at either the newly opened
Hugo's Room
(www.roombar.fi), or its smaller, older, sister bar,
Room Albert
(www.roombar.fi). The latter, pocket-sized venue is a dark cubbyhole with exposed brick walls, art deco chandeliers, and a Piccasso-esque picture of naked men adorning one wall. The former, Hugo's, is a more contemporary and buzzy offering, attracting a young, pre-club crowd.
Fenix
(www.ravintolafenix.com) is another dark and cosy escape, popular with both the boys and girls. There's more exposed brick and hip, patterned wallpaper, while the music is kept to an unobtrusive level. For an earthier atmosphere, there's
Mann's Street
(www.mannsstreet.com), with its World Of Leather-style sofas and equally leathery clientele (that cold, salty Baltic air can take its toll on the skin!). There's a slightly retro feel to this first floor bar, aided by the trashy pop soundtrack and a couple of
Tom Of Finland
images on the walls.
Club-wise, after the bars close, everyone moves on to either of the two gay clubs.
DTM
(Don't Tell Mama - www.dtm.fi -
pictured above
) brands itself as the biggest gay club in Scandinavia. It's open throughout the day as a café bar, but really comes alive in the evening, when it offers two dancefloors and a variety of rooms to a predominantly young, G-A-Y-ish crowd. Ten minutes away, and catering for everyone else, is
Hercules
(www.herculesgayclub.com), where you have to be over 24 to gain admission. This chocolate brown venue offers several rooms for a mixed crowd, with a weekend soundtrack heavy with Lady Gaga and BWO plus 80s classics from Pet Shop Boys and Eurythmics. The two venues seem determinedly split down age lines, although DTM is trying to temp the older clientele back on a Saturday night, when admission is just €2 for anyone who can prove that they're over 35 (but €8 for anyone younger!).
Helsinki's only downside is that it's not the most economical option for a European city break, and although it may be possible to holiday "on the cheap", doing so might involve skipping some of the city's particular delights (or culinary delicacies), so make sure you're packing some plastic. That said, if you're looking for a unique experience - one that's shaped by Scandinavian, Baltic and Russian influences, then Helsinki promises a warm, and sometimes steamy, welcome.
Links
www.visitfinland.com
- Visit Finland website
Food
*
Café dtm
, Iso Robertinkatu 28. +359 (0)10 841 6996. Gay club with a daytime gay café.
www.dtm.fi
*
Ravintola Nokka
, Kanavaranta 7 F. 6128 5600. Award-winning Finnish restaurant offering traditional cuisine.
www.royalravintolat.com
*
Saaga
, Bulevardi 34 B. (09) 7425 5544. Lapland themed restaurant - advanced booking advisable.
www.asrestaurants.com
*
Aino
, Norra esplanaden 21, +358 9 624 327. Charming, traditional Finnish restaurant in the heart of the city.
www.marcante.fi
*
Bear Park Café
, Karhupuisto, Kallio. +358 (0)44 567 0679. Very gay-friendly summer café (closed in winter months).
www.bearparkcafe.net
Accommodation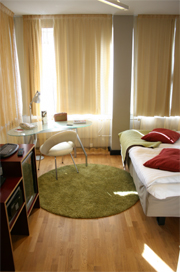 *
Sokos Hotel Albert
, Albertinkatu 30, 00120 Helsinki. +358 20 1234 638. Sokos is the largest hotel chain in Finland, operating a large number of well-designed, stylish hotels across the country, including seven branches in Helsinki alone. The Sokos Hotel Albert (
pictured right
) is the one closest to the city's gay scene, in the designer district.
www.sokoshotels.fi
*
Sokos Hotel Aleksanteri
, Albertinkatu 34, 00180 Helsinki. +358 (0)20 1234 643. Another Sokos hotel, close to the gay bars (just a few doors from Sokos Hotel Albert), and next door to the historic Alexander Theatre.
www.sokoshotels.fi
*
Hotel Kamp
, Pohjoisesplanadi 29, 00100 Helsinki. (09) 576 111. Famous, luxurious hotel dating back to 1887. If you can't afford to stay, just visit the café for a coffee and pastry.
www.palacekamp.fi
*
Hotel Glo
, Kluuvikatu 4_, 00100 Helsinki. +358 9 5840 9540. Great hotel in the heart of Helsinki - currently top rated on Tripadvisor.com
www.palacekamp.fi
*
Best Western Premier Hotel Katajanokka
, Vyškatu 1, Helsinki. +358 9 686 456. Stylish hotel in a former prison - slightly cheaper than other Helsinki options!
www.bwkatajanokka.fi
This article first appeared in Out In The City, November 2009 © David Hudson