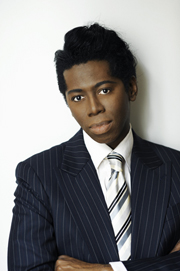 J Alexander
April 2008 - Miss Thing
David Hudson caught up with

J Alexander

, runway coach, model mentor, and the best reason to tune in to Living TV's

America's Next Top Model

...
In the notoriously conservative world of American TV, out gay celebrities are few and far between. Whereas the British schedules are overrun with camp entertainers, our American friends can still be a little bit shy when it comes to discussing their sexuality. That is unless they happen to be
J Alexander
.
Even before he became a regular fixture on the judging panel of Tyra Banks' hugely successful
America's Next Top Model
, J Alexander was well-known in fashion circles as the world's most famous runway coach - a niche he carved for himself after his own successful catwalk career.
If you've never caught the man in action, you might be tempted to dismiss him as some camp pantomime figure from the world of fashion. That would be a grave mistake. Behind the bizarre couture costumes, Alexander (or
Miss J
as he is affectionately known on
ANTM
), is quite unlike anyone else on TV. He forged himself a modelling career despite looking little like a conventional model, and has earned himself a foothold in TV despite playing by his own rules. Whereas many people on TV are obsessed with their public image, Miss J gives the genuine impression of not caring what anyone thinks about him. It's an attitude that's both refreshing, empowering and very 21st century.
If he's unlike your typical LA or New York fashion queen, it might well be because he has lived in Paris for the last 17 years. It was there that
Out In The City
caught up with him to discuss his career.
So when and why did you move to Paris?
When? Let's see, I was living in Japan before that, and then I moved to Paris in 1991. I was modelling for Jean Paul Gaultier in 1986 in New York City and he said that I should come to Paris and then I met the owner of Elite [
Modelling Agency
], Monique Pillard, who said I should go to Japan, and I ended up living in Japan, and then I went back to New York for Christmas, and it just sort of happened that I moved to Paris. And I started going to see people who thought I was some freak of nature - ok, fine, granted, a 6'4'' black man in high heels and drag and androgynous dress - whatever you want to call it. And, then it turned into going to shows and observing, and working with girls who were friends and giving them tips, which turned into teaching them how to walk.
Did you stay in Paris for the work or because you fell in love with the city?
It was more the work. Things began happening for me here, and I thought 'why keep going home - why keep going back to New York?' In New York I was sort of just bopping around with a friend of mine who was styling for newspapers and magazines, and I became her assistant just in order to make money and pay the rent, and I was basically running around to clubs, getting in free, dressed in a ballgown or cocktail dress, and became a club person. Not a club kid, but a club
person
. I never wore platform heels or carried lunchboxes and big outrageous wigs!
And then that's how that thing happened with Paris, and I was given my first apartment in Paris, and then Gerald Marie from Elite, who was married to Linda Evangelista, said we think you should teach girls how to walk, we think you're really good at this, we've seen you imitating girls, which we think is very funny, but at the same time some of these girls could learn, which is how it all started, and the first designer to hire me was Valentino. And then the designers began to say, the girls look great, but they can't walk, so let them see J. And then Tyra, of course, she's shown clips of me doing my stuff in Paris...
When did you first meet Tyra Banks?
I met Tyra 16 years ago, if not longer.
Did you hit it off immediately?
We did, of course. You're black American, I'm black American, you're outrageous, I'm gay, you love fashion, you're a model... ok!
And yeah, Top Model, 13 years later, pops up as a new reality show that I initially thought was gonna be a one-off, like
Model Bahaviour
, which I'd been involved with before in London. They didn't bring me back for the second cycle of
Model Behaviour
, but Tyra Banks had this great idea, and
America's Next Top Model
was born and here we are shooting cycle 11 in April [
2008
]. Who knew it would be such a world-wide phenomenon?
It is amazing how many countries now have their own version of the show.
Well this is it. As I was telling somebody last night at dinner, and I've been a guest three times in Sweden, three times in Norway, two times in Denmark, one time in Canada. I've never been able to do France because I'm away shooting ours. They wanted me in China, in Thailand, in Japan... it's just everywhere. And all of that came from being true to who I am and true to what I believe. I believe that if you have talent, it may not happen in five years or in 15 years, but someone will eventually notice it, recognise it, use it and respect you for it.
One of your most endearing qualities on Top Model is that you make no attempt to compromise who you are or to downplay your own rather individual personality - have producers ever asked you to be more conservative, or has it ever got you into trouble?
Hmmmmm... not really. I never thought about it. My mouth may have got me into trouble a few times, because I like to be forward and direct. I think part of being who I am... it's that ying and yang thing. I'm sitting there watching TV and I see Julian Clary all dolled up, and I'm looking at him thinking he's insane and crazy but what's coming out of his mouth is funny and comical - it's entertainment. We all get stereotyped into roles, and people say why aren't there positive gay men on television, well I think I'm fucking positive. I'm a positive role model for young gay kids, and for young straight kids who look at me and think 'that motherfucker's crazy'.
Do you think it helps coming from the fashion background? I've chatted to some gay men in the entertainment industry, and they've obviously thought long and hard over their image and how they might be perceived - whether to play it straight or camp it up. You work first and foremost in the fashion industry and have almost snuck into TV through the back door...
[giggling] The back door? I guess. I grew up in the South Bronx, in New York City, in the hood. I'm number seven of ten kids. I went to school to be an accountant. But then I wanted to design clothes. I used to look through old copies of
Ebony
magazine with Diana Ross in them, and I'd think to myself 'do you know where you're going to?'
I then thought 'I wanna design dresses,' so, I'd put paper on the pictures and started tracing them, and got into designing women's evening wear, and I'd look at all these pictures of women going to balls or for cocktails and thinking 'I wanna be just like them - I wanna be some rich old white woman'. It was just a thought in my head, ok! And then I looked at more and more magazines, and started collecting pictures of Yves St Laurent runway collections, and all those girls walking down the runway in heavy gold and black and red eyes, with gold highlights and red cheeks... so 80s! I wanted to be a model, but I thought that wasn't gonna happen. Little did I know that having a little bit of personality and character would help. My idea of a male model was a really good looking white man or a really good looking black man who had white features, who wasn't that dark, whose lips weren't too big, whose nose wasn't that wide. That to me was what people admired and could relate to, and that's when I discovered -
shit
- I look nothing like that, and ain't never gonna look anything like that!
So that's when Miss J - wide nose, crooked teeth, nappyhead - call it what you will - I've got talent and if you see beyond the looks you'll see the talent.
And if you firmly believe you're beautiful, you'll project that confidence, right?
Or, I just didn't give a shit. I couldn't give two shakes of a rat's arse what they thought about me. And that's how I ended up doing what I'm doing. I couldn't afford expensive clothes so I taught myself how to sew.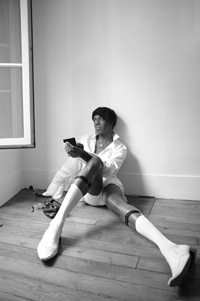 Who are you favourite designers?
My favourite period for clothes is 1920s, 30s and 50s for women, and 1920s, 30s and 40s for men. I love the drama of Galliano for Dior because it's pure theatre. I do love Alexander McQueen and think he's very, very talented, and as far as American designers, I love those evening wear/cocktail designers like Oscar De La Renta, Ralph Rucci - old-school couture. There are so, so many designers...
You must have a ridiculously large wardrobe?
Well, it's ok. The TV people give me things but often it doesn't fit, because I am 6'4", and my inside leg is about 37", with long arms, so it's difficult to get stuff for my frame!
Do you want to do more TV stuff - do you have ambitions for your own show?
I'm just going with the flow. Things have been coming up, people suggesting things - do I want to do a chat show? I don't know. Do I want to do a fashion programme? I don't know. People call me an expert but I really don't consider myself an expert. And I think that's what's happening with TV is that reality has put a lot of people into TV and a lot of people feel that they're experts. I don't consider myself an expert, I just, you know, speak about what I know. I covered for
Fashion Police
. for E!, I did two Oscars, two Grammys, two Golden Globes and one Emmy Award. And when they were bringing people on to TV and started criticising the dress and saying 'I really don't like that shape, I just think it's not a great shape for her, or I think she looks really, really awful, or I don't like the necklace', and I'm thinking 'Mmm, ok.' Then I'd go and say 'Well, I think the shape would be great if it was more fitted here, and a cap sleeve would have been better than those sleeves,' things like that, and they'd look at me like I was crazy...
But that's you bringing a bit of authority to the commentary?
Exactly, but the thing is, I didn't realise, that's a threat. My contract ended, they could have renewed it but they didn't. A British producer said to me, because I never understood why, that that probably made it very difficult to write for me, because I'm a gay man, and they'd want to write silly gay things for me to say. Even on Top Model, again I'm a gay outrageous man, but you can't script me. It's impossible. My life, my ideas, and what goes through my head, it can't be scripted! I don't want to be an actor. That's never been my passion or dream. I won't follow a script and go into character. I'm naturally retarded. I'm naturally crazy. I just naturally do what I do and it's off the cuff and that's why it works. They would say to me 'people just want to know if it's a pretty dress or an ugly dress,' but that made no sense to me in my head...
What did you make of Queer Eye For The Straight Guy? Did you think it was progressive of American TV, or a re-packaging of gay stereotypes?
I just thought... it was a bit of both for me. OK, let's take five gay guys and give them a TV show, and I thought Carson was a bit over the top sometimes, but I think that's Carson's personality. But I don't think it was a step backward, I think it was a step forward.
The judges are always so constructive in their criticism on America's Next Top Model - do you ever have a good old bitch backstage about some of the contestants?
Yes, I even have it on set, but it's just that it gets edited - trust me [laughs]. And Tyra doesn't get the last word on who gets thrown off, it really is majority rules and sometimes she gets defeated.
Do you have a partner?
No. I have a six-year-old son with my ex boyfriend. Yes, we did the little wanky-wanky-in-the-tube thing, and he came out looking very white and Slovak, as my ex boyfriend is a Slovak doctor. His name is Boris and he's six years old and he calls me
Papa Deux
. He lives in Paris with his mother, and every other weekend Alex gets him and if I'm around I see that we have breakfast and see him.
Are you on the lookout for another relationship?
If something comes along... well, I have to be careful about using the term
wide open
[laughs], but I am open to the possibility. Work keeps me travelling a lot. This week I'm off to Palm Beach, and then I'm back here, and then I've another trip before I go and do
Top Model Helsinki
, and then in April I'm off to Los Angeles for
Top Model
, and I'll be back in Paris in June or July. So my schedule is crazy, and they wanna do a book about my life, so they're writing it now. People are coming up with ideas for TV shows and things to do, and I don't want to do everything and anything. Even if I do something on my own, I want it to be kind of funny, just a kind of silly thing - I'm not doing it to be the next Oprah. I don't know what it will be, but when it comes along, I'll know in my heart that that will be the right thing, and the same with a partner. If he came and that ass fell on my face, I'd be 'ok, this is the one.' And we don't know how long that will go. If it works out, then cool, and if it doesn't work out, then also cool. I'm used to being on my own, and I'm used to travelling a lot and not having to answer to anyone.
Season Nine of
America's Next Top Model
is currently showing on Living TV every Monday night at 9pm.
An abridged version of this interview was published in Out In The City,
April 2008 © David Hudson
J Alexander images © Deborah Anderson www.deborahandersonphoto.com