John Grant
October 2013 - Ghost in the machine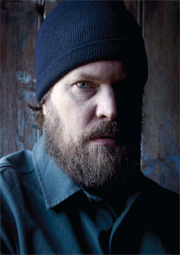 John Grant's love of melody and electronic beats, coupled with a willingness to bare his soul, has earned him a cult following. The gay singer-songwriter talks to David Hudson about love, pain and HIV...
With the end of the year approaching, one album that is likely to feature on many 'Best of 2013' lists is John Grant's
Pale Green Ghosts
. The atmospheric electro of the US-born songwriter's second solo album not only garnered critical acclaim but also introduced him to a whole swathe of new fans. It rewarded him with his biggest hit to date when it crashed into the UK top 20 on its release in March.
"It has exceeded my expectations, but I usually don't expect anything," Grant chuckles. We are sitting in London's Maison Bertaux shortly before he performs an intimate show at Soho House. "I always expect the worst, then I'm delighted if it doesn't turn out that way."
Success has been a long time coming, and the path towards it has not been smooth. Grant grew up in the small town of Parker, Colarado. As a teenager, he was haunted by the death of his mother when he was just 15, and struggled to accept his sexuality. The
Pale Green Ghosts
of the album's title refer to the silvery Russian olive trees that line the I-25, the road to and from nearby Denver - a city that offered escape to the young Grant, not least through its record shops, clubs and bars.
In 1994, he formed alt-rock band, The Czars, who released five studio albums. However, despite critical praise, mainstream success eluded them. Years of touring took their toll on the group - as did Grant's increasing reliance on alcohol and cocaine. By 2004, five of the six original members had decided to split from the band. Grant soldiered on alone for a few months under the 'Czars' moniker, before deciding to call it a day. He realised that he had to address his addictions and find himself a day job. A passionate polyglot (he can get by in five languages - including Russian and German), he explored translation work... before the muse again came calling.
In 2010, he released his debut solo album,
Queen of Denmark
, heralded by Mojo magazine as its Album of the Year. Backed largely by members of American band Midlake, and recorded in Texas, Grant describes it as his 70's album - a folky, alt-rock offering, unashamedly influenced by the slick melodies of Bread and The Carpenters. Among the album's fans was Sinead O'Connor, who went on to cover the title track on her 2012 album, How About I Be Me (And You Be You)? The two subsequently became friends, and O'Connor provides backing vocals on Pale Green Ghosts.
Despite the praise heaped on Queen of Denmark, and having embraced sobriety ("I just don't think it's worth going back. There are so many great reasons for me not to indulge"), Grant continued to wrestle with demons. Queen of Denmark was partly inspired by a recent love affair. However, when that relationship ended after just six months, Grant was devastated. Exploring that loss, and his feelings towards his ex, make up much of Pale Green Ghosts. And it's not always pretty. "The only thing that brings me any comfort is the knowledge that, no matter who you're with, you'll always be alone," he sings on 'Vietnam', comparing his ex boyfriend's bouts of silence to the damaged wreaked by Agent Orange.
Was writing the album cathartic?
"I don't know. I think sometimes it is really cathartic. It's the big question that I ask myself: 'Are you digging this back up because you can't let go and you want to hold on to this person somehow by eternalising them in your music? And is that hurting you in the long run because it's making it harder for you to let go and move on and just, you know, get over it?' I do wonder sometimes, but I feel that it was the right thing to do because love does seem to be a big theme for me. More than anything, I'm sort of observing myself and commenting."
I ask him if he'd had any response from the ex boyfriend concerned.
"Uh-uh," he shakes his head. "I don't expect to have any response. I mean... what's-his-face that I keep writing about," he chuckles, knowing how obsessive that may sound, "he doesn't respond to anything, and that's what hurt me so much. That's what I wrote about in 'Vietnam.' But you know, I blame myself for everything. I may be lashing out at him, because that's what a wounded animal does. I lash out at him on 'Black Belt' and list all of his flaws. But, you know, at the end of the day, late at night, I'm just wishing I would see his name in my Inbox, and then he'd say: 'I was wrong. Come back to me'."
You blame yourself for allowing it to happen?
"No. I mean that I feel that I ruined everything. Because I cared too much. I was confronted with this love, with this person who was basically the man of my dreams, and I realised, much to my horror, that I was completely unable to accept it and deal with it in a healthy way. And that filled me with such sadness that I wasn't able to... you know... I had all of the right ideas about it... I was just horrified by the amount of need that I saw in myself, and the amount of hurt and the amount of anger, and it just opened up all of these wounds, because let's face it, most of this has nothing to do with him. These songs have barely anything to do with him. And that's probably why I keep writing them too, because..."
It's not addressing the underlying issues?
"Yeah, because it is about so many other things. It's not just about him. It's probably 95% not about him. I guess I'm trying to figure out how to live. I don't want to let the past get me down. I see that with life there are a million possibilities every day - if you go out and take advantage of them. But there's something about me that just wants to isolate and go away and hide and not be made to feel."
Although this may sound like torturous self-analysis, Grant speaks matter-of-factly. It's clearly something he has pondered at length. "I see the pitfalls of self-absorption, being too concerned with the self, and I've heard people say that the only life worth living is a life lived for others. And I agree with that in the way that you can access yourself by going out and interacting with others, and seeing what you can do to be part of the community - giving more than you take."
Having been invited to perform at the Icelandic Airwaves festival in 2011, he was so taken by the country that he decided to move there. He says now that he finds the feeling of community in Reykjavik enriching, and that attempting to carve his own space within that community beneficial to his emotional wellbeing. He has spoken before about his struggles with depression.
It was in Iceland that he met up with Biggi Veira, of Icelandic band, Gus Gus. The two began working together, and it was Biggi who was partly responsible for the sound of Pale Green Ghosts - which marked something of a departure from Queen of Denmark. It throbs with electro beats and dark synthesisers - echoing the painful subject matter and, at the same time, paying acknowledgment to Grant's 80s adolescence and introduction to club culture, as well of his love for such acts as Eurythmics and Jean Michael Jarre.
"Sweet Dreams, Touch, even 1984, those are amazing from start to finish. Savage is amazing, but I really liked the electronic stuff. And 'No Fear, No Pain, No Broken Hearts'? I love that! That just gives me..." (He rolls up the sleeve of his jacket to indicate hairs standing up on the back of his arm.) "I have been trying to recapture that moment in my own life like forever, from the first time I heard that."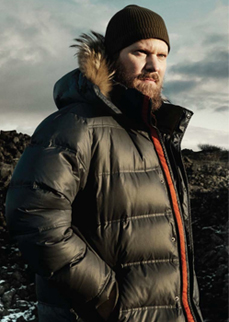 Around two and a half years ago, Grant received a phone call from a man that he had sex with a few times. He had tested HIV positive and thought that Grant should get himself tested. Grant says that he immediately suspected that he too might have sero-converted, and this was confirmed when he took the test. Eighteen months later, he announced the news on stage at the Southbank in London, when performing as a special guest with Hercules and Love Affair. He had written about his diagnosis in a song ('Talk to You'), and felt it appropriate that he should explain the nature of the lyrics when introducing it. He references it again on Pale Green Ghosts' 'Ernest Borgnine' ("Doc ain't lookin' at me; says I got the disease. Now what did you expect? You spent your life on your knees").
He tells me that he was lucky he found out his status quickly after becoming infected, and that he is on medication and has an undetectable viral load. Fortunately, although HIV can now usually be successfully managed through medication, there remains much stigma around HIV. Had he experienced any unpleasant reactions since talking about his status?
"No, but I think I'm just around the right people. If I was around certain groups, of course, they would say, 'Oh well, you just got what was coming to you for being a pervert.' There's a lot of that out there but I don't really move in those circles," he laughs.
"But I do notice that I have a problem with it sometimes," he says, becoming reflective once again. "That I feel, you know, even more unlovable as a result: dirty; used; diseased; fucked-up... It's a really difficult area to go into because my whole behaviour and attitude towards sex was very similar to my relationship to alcohol and drugs. It was a way to change the state of my mind, where I was able to escape. There's also the high of feeling wanted and desired by someone, you know? I never really thought about whether I was protecting myself, because I didn't want to scare off a potential suitor if he didn't want to wear a condom, and I never really thought of myself as important enough to protect. The thing is, you become an adult and you start to realise where everything went wrong and who was telling you things that weren't true, and it seems like the big problem is to really let go of all that stuff and really move on from it, instead of continuing to tell yourself those same messages. I have a hard time doing that."
From reading past interviews, it would be easy to conclude that Grant is a depressed, doom-and-gloom merchant. But although intense and disarmingly open in person, he is also warm and engaging. Having bared his soul so remarkably on record, it seems there is no area of his life that he feels inhibited talking about. Not only fiercely intelligent (he talks at length about the intricacies of learning Icelandic), he has an unwavering curiosity of the human psyche, and is bewildered by his mood swings - which one senses he has learned to ride with greater acceptance these days. He tells me that he is careful not to isolate himself too much, so I put it to him that moving to Iceland could have been something of a risk. What prompted the move? "I just liked what I saw and I loved the people I met, and wanted to deepen those relationships. I'm sure there was a part of me that wanted a new backdrop for my bullshit. I don't really know. To the extent that I'm honest with myself, this is what I think of it, but who knows what might be in the subconscious, whether it's another escape. People get to know you if you put yourself out there, and they don't always like what they see, so there is a risk involved; but I like the person I am when I take in new cultures, and I love learning about this new culture and language."
Engaging and interacting with others keeps Grant grounded. Flattered by the success of Pale Green Ghosts, he is looking forward to beginning work on his next album, which he says, fancifully, could sound like a cross between Einstürzende Neubauten and The Beach Boys. It's likely to retain the synth-heavy sound of
Ghosts
.
Without wishing to end the interview on a down note, I ask him what his highlights have been from the last 12 months, and he is quick to enthuse about collaborations with Beth Orton, Irish singer Damian Dempsey, and performing live with Sinaed O'Connor in Dublin.
And as for being seen as 'doom and gloom'?
"Well, I don't think it's the biggest part of my character. There is a lot of that, and the love thing is an important subject to me, but now I'm not even sure what I want anymore. Do I even want to be with somebody? I'm not sure if I really want that, because my relationship to things is changing. My relationship to sex is not the same as it was, so I'm not even sure what I want. I need to figure that out first. But I still have the curiosity of a child, so I get very excited about things. It doesn't take much to get me excited... in many ways," he laughs.
"I feel that I'm at least living now," he says. "I do feel happy, and I do go outside and I enjoy the air, stop and smell the roses... the simple things. I do feel I'm probably happier than I've ever been."
It would seem some of those ghosts are finally being laid to rest.
Pale Green Ghosts
is out now. John Grant performs at Exeter Lemon Grove (16 Oct), Camden Jazz Café (17 Oct), Liverpool East Village Arts Club (18 Oct), Glasgow ABC (19 Oct) and Halifax Minister (20 Oct). He has just announced a headline show at London's Roundhouse for 9 March 2014.
An abridged version of this interview was published in Out In The City,
October 2013 © David Hudson