Julian Clary
September 2007 - Murder He Wrote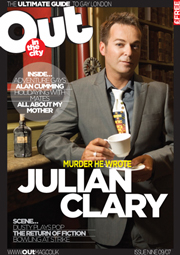 Julian Clary hasn't been such a regular fixture on our TV screens in recent years, but as he tells David Hudson, with the publication of his debut novel -

Murder Most Fab

- he's happier than he's been in a long time...
Anyone who read his best-selling 2003 autobiography,
A Young Man's Passage
, may have the opinion that Julian Clary is a slightly troubled soul. His first published work, it detailed his childhood and rise to fame with the sort of wry and witty bemusement that has become his trademark, but cast light on the neuroses and setbacks - both personal and professional - that have touched his life.
He came across as likeable, but somewhat detached, and proves the same in the in the flesh. Courteous, polite, helpful, yet a touch wary, we meet while he's engaged in two long days of press interviews for the publication of his debut novel, Murder Most Fab.
He's been booked in to London's Charlotte Street Hotel, but is not entirely happy to be cooped up in the ostensibly titled 'Library' - a small, wood-panelled room with a few dusty tomes but no windows. Despite the décor, it is a little cell-like. He doesn't enjoy doing photos, so - dressed in a conservative suit and a tie given to him by Boy George - he stiffly but obediently poses for the Out photographer, while his publicist tells me that they had a huge amount of interest around the novel and many requests for interviews. In fact, going by the reaction people gave me when I told them that I was to interview him, Clary is still very well loved, even if he doesn't get to grace out TV screens as much as he once did.
He doesn't seem altogether bothered about this, spending his time between houses in Kent and Camden, with more than enough work in several different media. Besides the TV work, he still makes stage appearances, does pantomime, writes a column for the New Statesman, and is a regular on Radio Four. And then, of course, there's the novel, over which he's laboured for the past two years. Murder Most Fab is a comic romp about the rise and fall of one Johnny Debonair, an ambitious gay hustler who ditches drama college first for life as an escort and then TV stardom, bumping off one or two associates along the way. The character is definitely not based on Clary, but even he acknowledges that, "The reader will probably hear my voice when they're reading it, but I made sure that the physical description is nothing like me. It's not specifically me. I could never murder anyone!"
He admits that its been a long-held ambition to write a novel, but that it was only following the success of his autobiography and a request from his publishers that spurned him on to complete the deal.
"Before I became a comedian, I wanted to be a writer when I was a child and I never really had a career plan, but I always thought, as I got older, that I wouldn't want to be doing camp comedy, that it would be nice to slide slowly into writing, but then, you never know if you can write a novel. You like the idea, but it's only when you're given deadlines that got me to do it."
He disciplined himself to writing 1,000 words a day, but the work was interrupted by stints in pantomime and other projects. He's undeniably proud of the finished work, and visibly brightens when - during our photo shoot - his publicist brings him the first hardback copies of the book, fresh from the printers. I wonder if he can contemplate a career devoted solely to writing.
"Not really. What I like about my life is the variation. I can do a few weeks writing, and then go off and do some gigs on tour, and I do Just A Minute for the radio. I need variation. I'd get sick of doing just one thing. I wanna see if anyone likes this book and anyone asks me to write another one. I can imagine in ten years' time, if I'm still here, being quite happy to live in Kent and write books all the time, but who can say how they will feel in ten years?"
Clary talks extensively about his life in his New Statesman column, although I have to admit to him that prior to my research for this piece, I wasn't aware of his work as a columnist. He's not offended.
"I have no idea who reads the New Statesman. It's one of those mysterious publications. I don't know anyone who reads it regularly, it's quite highbrow, but they don't want me to be highbrow on the back page, I can whitter on about whatever I want. I asked if there were any restrictions on what I had to write about and they said 'no'. It's just quite a nice thing to do."
I tell him that I enjoyed his autobiography, but that I was disappointed that it ended when it did - just after his infamous appearance at the British Comedy Awards in 1993 when he made his so-called notorious comment about fisting Norman Lamont. Finishing it there seemed to reinforce the perception that that was the end of his career - why did he choose to end on that note?
"Janet Street Porter told me to hold back, don't give them everything. Hold back, so I can write a sequel. The other reason was that it's a very personal book, and there's a lot in it about my boyfriends and private life in it, and that's one thing when it's ten years in the past. If I'd written about more recent past it would understandably have been more upsetting for people. If I leave it a few more years, I can bring it more up to date. It's not ever only a mercenary thing. I think it's sensible not to give the whole lot in one go, and also you don't know what you think or feel about some things until you've put a bit of distance on them."
Clary's career undoubtedly did take a knock after the Comedy Awards' incident, and besides his own notoriety, he had to then compete in an increasingly competitive market. Whereas he was pretty much the first 'out' gay comic on mainstream UK TV, many others have followed in his wake. I wondered how he felt about this proliferation of camp gay talent.
"Well, I'm all for it I guess. Every channel must have one," he says slightly warily, before adding with a raised eyebrow, "There's a few one could live without. A bit of a cull. Who's that man? Julian [Bennett] and Lulu. I think he should be dropped in a big hole. You don't mind the ones who are good, and you don't like the ones who are naff, so that's what I feel about it really."
Did he ever view any of his rivals and think "why did they give that job to him - I could have done that?"
"No, I don't. It's not like there are only a certain number of places to go around, and although you're bracketing us as 'camp gay comics', I think there are a lot of differences. Me and Paul O'Grady are both camp gay men with dogs, but besides that, there are not many other similarities. Graham Norton's got a dog now as well. No, I'm all for all of us. I think it's marvellous."
Mainstream audiences seem more comfortable with camp and asexual gay men on their TV screens, and I put it to him that he's perhaps been sidelined by producers in favour of more sexually neutered gay comics, but he politely rebuffs the notion. "No, I don't think I've been pushed aside at all. I think I've paid the price for what I've done in my life. And anyway I don't think all gay men on television are camp, that's another myth. There are a lot of gay men on television that you just wouldn't know," he says with another slyly raised eyebrow, "and that's apart from the closets! I know what you mean, that there's a perceived idea that I may have been passed over in some way, but I don't feel it. I have a fabulous life and am very content with my lot, thank you."
Indeed, although it's difficult to scratch beneath the surface, and despite his caginess, he does seem a much happier person than the person he sometimes appeared to be in his autobiography. At the beginning of the novel, in its prologue, Johnny looks back on his exploits and says 'I had it all, lost it all, and now I'm surprised to find that I don't want it back. Been there, done it'. Is that a sentiment that rings true for its author?
"Yes, in a way. I think the most exciting thing about fame is getting famous. The realisation that you're on that rollercoaster and it's going to happen, and that's what you've always wanted. When you're new and exciting, it's a whole new world. When you've been famous for a while, it's fine and I like it, but it's never as exciting as when you're getting there. But that's not exactly what I meant by that comment in the book. You've got to finish it to understand what that means."
Another source of happiness is an apparent contentment with his love life. He's recently been dating a man considerably younger than himself. Does that pose any particular problems?
"Well, it's very interesting. He's 30 and I'm 48.He's obviously quite intelligent and mature. He's like the middle-aged one, not me. He doesn't drink or smoke or take drugs. He wouldn't cross the road unless he had a green man. He's very proper and I'm not. Somehow it sort of works. I recommend it. I certainly couldn't go out with anyone older than myself. I can't think of many disadvantages, other than having to meet his friends. I'm not interested in 30-year-olds in general, just with him," he adds ruefully. "I don't really want to spend an evening talking with dreary friends." He's hinted in one of his recent columns that he thinks gay men have generally become more conservative - I asked him what he meant by this comment?
"I did say that, didn't I? I suppose what I was thinking of when I wrote that sort of thing, back in the 80s, when we were all angry and slightly put upon, and we had quite a lot to battle against, and now it just feels a bit wishy-washy, and it's marvellous that we don't have so much to be cross about and I really like to see the self-righteousness of young gay men - I wish it had been like that in my day. But, the kind of 'fuck you' attitude isn't there any more, and I know I sound like an old fogey, but I kind of miss that. I remember when gay pride marches were quite an angry thing, and we'd all be shaking our fist, and now's it's more a celebration. I don't want to go backwards, but I miss it."
He tells me that he has attended civil partnerships, and to his surprise, found himself crying at them.
"I didn't expect to be so moved by it. And I didn't mean to imply that I don't think they're a good thing - because of course they are - but the price of acceptance might be that gay men end up being more like heterosexuals, which is probably what they wanted anyway. I quite like the idea that we're not like that."
Clary has always been a square peg, and at this stage in his life, is not likely to start conforming at any time soon. It's ultimately part of the reason that he's so well-loved. That and the fact that there's still nobody that can quite match him when it comes to dishing out camp innuendo.
I finish by asking him if he has any ideas for a second novel.
"Percolating, yes," he says, "but there's no point talking about them now. I want to see if anyone buys this and if anyone asks me to write another. I don't want to jump the gun,' he adds, considering his words with a smile, "it would be... unseemly."
Murder Most Fab is published by Ebury and is out now in hardback, priced £16.99.
An abridged version of this interview was published in Out In The City,
September 2007 © David Hudson
For the latest news on Julian Clary, check out his website
here
.