Klaxons
June 2007 - Golden Sounds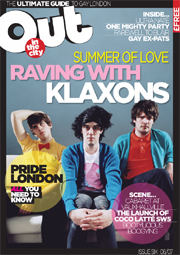 James, Jamie and Simon are Klaxons - the colourful exponents of nu-rave who've scored gold with debut album Myths Of The Near Future. In the middle of their first headlining UK tour, Hudson caught up with James to talk about their overnight success, those Lindsay Lohan rumours, and rock'n'roll clichés...
Where are you at the moment?
James: Currently in the bath!
Really?
That's why you can hear that echo?
Are you on tour at the moment?
We are, we're currently three quarters of the way through our UK tour.
What part of the world are you in at the moment?
London, actually. We got a day off, so we got on the train last night in Bristol, and are having a day at home, but the crew are in Norwich.
How's the tour going?
It's been great. It's been really good in a lot of ways, mainly because we're no actually a better band and can play our instruments. The first 15 months as a band was basically us learning how to play together. From the off we got a bit of a attention and were courted by labels before we could even play...
Did you worry that you'd get rumbled as imposters?
Well, no, we blagged it! We've all played in bands before and everything, but traditionally, I'm not a keyboard player, I'm a guitarist. Simon's not a guitarist, and Jamie's a drummer. We all ended up playing different instruments and learning how to play them, and in a lot of ways that helped us create the sound that we've got - we're amateurs! I think sometimes knowing too much about what you're doing is not a good thing - it limits you and you can become quite rigid. That was a good thing about it. We knew we were writing songs that were good.
Were you confident of success then? When did you have your first band rehearsal?
November 5th 2005. We had a gig booked and we had about a week to learn some songs and then play this gig, so in that week we wrote 2-3 songs and a cover. We were supposed to be supporting this band called The Fucks, and they pulled out, so out first ever gig was headling at San Moritz on Wardour Street, to a room full of people who wanted to have fun but didn't know what they were in for. Nor did we really, but we got on stage, started playing, everything broke and we danced around like a bunch of idiots for 20 minutes, for some reason some people actually liked it - it was the most punk thing they'd seen in a long time. It was kind of tuneless and there wasn't much there, but you could properly tell that we were having a lot of fun.
And now you must be playing your biggest gigs yet?
Yeah. Our biggest gig was Coachella the other day, when there were probably 6,000, but this is our first proper UK tour. The other ones have been under an NME banner, or just the odd date here and there, but this is the first proper tour, and with the album properly out there, so we've noticed that everyone knows word to every song and they're singing them back to us.
Are they still bringing the glo-sticks?
They are, they are still present. They're diminishing but they are kinda there. It's getting pretty dangerous. It's nothing we've really promoted in any sense, it's just kinda happened.
But you came up with the nu-rave tag?
Yeah, the tag, but we didn't come up with... the whole... we've been away for the last two months and have come back and everyone's wearing these t-shirts with the big bold slogans across the front, like Wham used to have... who's the designer?
Katherine Hamnett?
Yeah, there's a real look at the moment, with the fluorescents. I've heard in Top Man and New Look they've got nu-rave lines of clothing, and it's got nothing to do with us, but we're kind almost spearheading it be default.
Are you tired of that label?
We don't mind talking about it, but I don't think we're seen as that anymore, to be honest. Now that the album's been out a few months, I think people see past the label and see that there's more to us. I think 'Golden Skans' helped a lot, because it crossed over a lot to the mainstream. The tag doesn't bother us. What does bother us are flying glo-sticks. They throw them all over the place and one hit Jamie in the eye the other night!
Did the three of you click immediately when you started making music together?
Yeah, pretty much instantly. It's really strange thinking about it, but from that first track, within the firstweek or four existence we'd written 'Atlantis', 'Gravity's Rainbow' and 'Four Horsemen', and 'Golden Skans' within 3-4 weeks. We didn't have that period that most bands do of learning to play together and create a sound together, it just happened very quickly, which we were very fortunate about. We knew what we didn't want to sound like, which helped a lot.
What did you not want to sound like?
At the time there were a lot of post-Libertines, jingly jangly guitar things going on, which didn't appeal to us. The Libertines were a great band, but we didn't really need to re-visit that. And a lot of angular, choppy guitars and post-punk music, and a lot of bands sing about reality, boyfriends, girlfriends, London...
You've been described as being at the opposite end of the spectrum to a band like the Artic Monkeys - is that fair?
Not really. I mean we are in the opposite end of the spectrum in terms of what we sing about, and perhaps in our fanbase, but in other ways there are a lot of similarities. Alex and the others have been coming to our gigs since we started. Within the first three months they'd turned up at a warehouse party that we done in Deptford, they become friends and we've share the same producer - James Ford did their album and our album. I think their new album... I think what we share in our music is a sense of urgency, and we don't hang about to get to the tunes.
You're a little bit older than the Arctic Monkeys - and I know that you yourself are only 23 but Jamie's 26 - do you think you've benefited from not being thrust into the spotlight too young?
Perhaps, yeah. We're all pretty normal, level-headed people. We've all played in bands before, nothing too great to talk about, but we've seen that the music industry can take advantage of people. We've made a lot of the right decisions, I think, from the start. Getting the right people around us and signing to the right label, I just think we made a lot of good decisions. It's just really great that it's happened this way, and that we've gone on this journey together.
Do you every worry that it's all going too well!
Well, we're not stupid and we know that at any minute this could end. From when we started, I think people were a bit cynical about us or weren't sure what to make of us, or were ready to dismiss us as gimmicky. I think the album has silenced a lot of the doubters and has proved people wrong. At the end of the day it's all about writing good songs, and if we stop writing good songs then it will be fair for people to criticise us.
The original rave scene was fuelled by drugs, and there's always the danger of rock and dance acts falling victim to drugs - is that something you're wary about?
Erm... well, they're there. They're present but they don't really intervene in the music we write. We're not under the influence when we write. It's quite funny because we've all kind of mellowed in the last few months.
But you're on tour - isn't that what bands do to relieve the boredom?
Well, to be fair, me and Jamie haven't mellowed so much, it's Simon who's mellowed ever since he's been going out with Lovefoxx [singer with CSS], he's kind of chilled out. He's loved-up and chilled out. You go in stages, because when we did the American tour, me and Jamie caned it for a month and got back shaking, so for the last week in the UK we've been pretty chilled. Our voices were going and we couldn't sing properly, so we had to take a break for a few days.
What's the most debauched, rock'n'roll cliché that you've indulged in on this tour?
The American tour... the whole LA thing was the biggest rock'n'roll cliché we've ever lived. Full of celebs and weird encounters with weird people and tabloid journalism. Just a manic, fucking few days.
Talking of which, talk to me about Lindsay Lohan?
What do you want to know?
Well, it's been reported that she's practically stalked you as a potential boyfriend. Have you even met the woman?
Yeah... well... she came along, this is how surreal it is, when we did LA and Coachella. We're there and at the side of the stage are the likes of Paris Hilton and Lindsay Lohan and other people who are famous for... I don't know what. We went to a party and the next thing I remember, I was standing with a bunch of friends and this big guy came up to me and he said 'Are you James?' And I said 'Yeah,' and he said 'Lindsay wants to say goodbye,' so I was escorted out of this club to go and wave her off and then I got a barrage of text messages, just trying to get me to come to some club. She just loves her boys in bands. She's sweet enough, but I'm not interested. There was no romance - nothing. It was just all very strange and I don't want to be part of that scene really.
How does it feel when you read stories like that in the press?
I find it really, really funny. I just laugh.
Is it the weirdest part of being a pop star?
That is pretty weird. It's something... we're not a tabloid band at all, and it's weird that little things like that have come out. The other month we were reading that Jamie was going out with Lily Allen. It's all a fantasy world, which is maybe appropriate as we're very much about escapism.
You get dragged in to it by association, like Johnny Borrell with Kirsten Dunst...
Yeah, they were actually there at party we were at. This is like Hollywood and LA are like. We suddenly saw all of this world. Our table at this hotel, suddenly Borrell and Kirsten Dunst walk up, and then the Olsen twins... they're almost fictional characters. They're all very nice people, but it's something we're definitely new to. All we're trying to do is right good music.
Do you go clubbing yourself?
Yeah, all the time. Well, as much as we can. We try and catch Errol Alkan whenever he's DJ'ing. We did a track with him the other day in Sheffield. We perhaps don't go clubbing as much any more, but whenever we play festivals we try to see the bands that are more dance-oriented.
The media's been quick to label other bands as nu-rave - do you rate any of them?
Erm... we don't know a lot about them really, we've not listened to them. If anything, those bands seem more nu-rave than us, if that makes sense. There's not a lot of modern bands that we've ever really listened to. Our reference points are older. A lot of the modern music we like is either dance music or American alternative and indie. Jamie's big on his minimal techno.
Have you ever been to any gay clubs?
I went once or twice when I was in Madrid. I lived there for a while and had some friends there. I had a really good gay friend who I used to work in a pub with back home. I loved him to bits. He used to feed me poppers underneath the bar between serving people in the bar. This guy was one of the funniest characters I ever met, and I still bump into him occasionally when I go home to Stratford. I used to work in a pub. It was a straight bar but gay-friendly. A lot of people that worked there were gay - we used to have a right laugh with him.
Would you play a gay gig if it was offered to you?
Yeah, we'd love to. We did get offered, about eight months ago, I'm not sure if we've got a gay following or not, but if we get invited, then yeah.
What does the rest of the year have in store for Klaxons?
More touring. We go from the UK tour to Cannes - which is another part of the craziness of it all. I'll try and stay clear of Lindsay! We're gonna go, play that gig, and then we're touring all the festivals this summer, and then we go to America in September, Australia and Japan. We're gonna give it a good go in America. We're going over in July and September to play shows. You've just got to keep going over there, and you've got to meet all the radio stations. You forget that in England it's comparatively easy, if you can get Radio One and NME behind you, but in America it's like that in every state.
You sound excited at the prospect, but others bands seem to find it all a slog?
Yeah. I can see why a lot of bands don't do it, because you go to America and it's like starting over, playing small clubs where nobody knows you. You could easily stay in the Uk and play to your fanbase and stay in your comfort zone, but we've never been about that. We've always been very ambitious and wanted to get our music out there. We think we're doing something that people should hear. It's not good being in that comfort zone. It's like the next record we make. You can't do the same thing again. We've already got a few ideas about where to take it, but it's not about doing the same thing again. You need to keep people guessing. The artists we've always admired, like David Bowie and Brian Eno, have always kept people on their toes.
Do you think you have the potential to be one of the biggest bands in the world?
I don't know whether we think about it like that, but we're confident in what we're doing. Confident or deluded... one or the other! We want to get out there to as many people as possible, and we think our records should heard.
Your bath water must be going cold?
It's getting really cold. I'm pruning!
An abridged version of this interview was published in Out In The City, June 2007 © David Hudson
For the latest news on Klaxons, check out their website
here
or their myspace site
here
.