Kylie Minogue
October 2012 - Silver Lady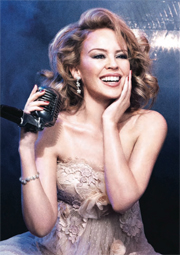 -
This year, Kylie celebrated her 25th anniversary as a near constant fixture in the charts. To mark the occasion, she's releasing an album that may surprise old fans and recruit some new ones; The Abbey Road Sessions. She explained herself to David Hudson...
With all the hoopla around the Queen's Diamond Jubilee, you might have missed the fact that another queen has also been celebrating a very special anniversary. Pop queen Kylie Minogue has spent a large chunk of 2012 celebrating her 25th anniversary as a recording artist - her own silver jubilee.
To mark this milestone, she first treated us to her Anti Tour - a unique series of intimate dates in which she performed stripped-back versions of singles, rarities and B-sides - to the ecstatic delight of hardcore fans who never thought they'd hear the tracks performed live. Then she released some special download singles, and now she's releasing
The Abbey Road Sessions
. A sumptuous collection of her greatest hits, the album found Kylie recording at the famed north London studio with a full orchestra - reinterpreting tracks from her 25-year recording history.
Having gone grunge with Anti Tour, and how fronting a full orchestra, the first question I put to her is whether we're seeing a move away from 'Dancefloor Kylie'?
"Hmmmm...", she says, screwing up her face. "It's exploring other avenues, but I don't think it takes me completely away from the dancefloor, because I'm still a sucker for that. I still love it."
I'm talking to Minogue at London's über-swanky Savoy Hotel. She's dressed in a chic, black, Dolce & Gabbana dress ("I've had it for years but never worn it"), and a pair of killer heels. She looks positively radiant: happy, relaxed and enthused to talk about her latest work.
"Anti-Tour was a complete indulgence, for the fans and for me. I'm not going to lie, I loved doing it."
By complete contrast, just a few months after Anti Tour, which came to the Manchester Academy and Apollo Hammersmith in London, she found herself in a very different setting - performing her hits in Hyde Park with the BBC Symphony Orchestra, headlining Proms In The Park.
"The Proms really brought this to life for me," she says when explaining the gestation of her latest work. "It's the only live performance I've done of these tracks. And... typical of me," she giggles, "I'd never even been to the Proms. The first time I go to the Proms is closing night at Hyde Park, doing something I've never done before. Great!"
Kylie going classical? If you've only ever been a casual Kylie fan, you might be surprised by this latest twist to her career, but those watching her more closely might not be quite so shocked.
"I think this process has started a long time ago. My tours since 1998 - and I'm not really counting the early ones where I didn't really have a clue what I was doing, just kind of jumping up and down! But from 1998, that's the first time that we did a torch version of '[I Should Be So] Lucky'. It's a kind of owning the songs and moulding them and seeing what else we can do with them. And since then, Steve Anderson [
her longtime musical director
] and I have always wedged in a couple of classical moments in in every concert, and this just gave us the opportunity to fully go there. So, yeah, I still have my eye on the dancefloor, for sure, and I'll be working on that next year."
The Abbey Road Sessions
packs in 16 tracks, including new track 'Flower'. For anyone who only knows her more dance-oriented material, the album will be a revelation - chiefly because it shows off exactly what a fine voice Minogue possesses. Secondly, having rarely released any ballads, here she makes up for lost time by giving the ballad-treatment to a whole host of her best-known hits. The results, in truth, are variable. A slowed down version of 'Better The Devil You Know' sounds a little schmaltzy, but on the positive side, 'I Believe In You' is utterly sublime. 'Can't Get You Out Of My Head' comes laden with added drama and stabbing strings, while 'The Locomotion' is given a proper big band treatment - returning it to its roots. Did re-recording the tracks bring back strong memories?
"'The Locomotion', for sure. And I actually love the version of 'The Locomotion' on this album because it's almost like where I had it. I've done it in all sorts of different versions, and it's finally come back, not so much to my version, it's almost come back to the 60s version. And it was just so much fun. One of my favourite parts of recording on the album was singing, 'Do the lo... do the lo.. do the lo...' [
she sings
] The whole band, the engineers, were all around doing handclaps, so that was fun."
"I'd say the one that surprised me the most was 'Never Too Late', which I just think is so gut-wrenching. So sad. And a lot of the PWL songs, like 'Better The Devil You Know', 'I Should Be So Lucky', 'Never Too Late'... they're actually all really sad lyrics. Sad stories. Probably like a lot of the greatest pop songs, you know, they're actually all from a really tortured place. And then other songs... the version on this album is not so far from what the original recording was, but there's nothing that's produced, so something like 'All The Lovers', just because the different tone, the different emotion that the orchestration brings, led me to do a slightly different melody on the lines, and... it's really, really revealing what changes occurred during the rehearsal period."
The album features a re-recorded version of 'The Wild Roses' - the song written for her by Nick Cave. What was it like to again take on the role of the doomed Eliza Day?
"Amazing!" she exclaims. She approached Cave and asked him he would return to the studio to re-record the track with her, and was delighted when he concurred.
"I was so thrilled that Nick agreed. He just came and I just gave him lots of hugs. I made such a fool of myself! So, yeah, we were in this big studio, we each had a couple of stools, we each had our mics and the lyrics stand with the lyrics on it, and we just sang it through again. And, kind of had to go 'yeah, you do that bit', and 'I'll do that bit'... because sometimes you don't hear your own song for years! So, we had to be sure who was doing what, and it was just lovely that he was there, and he sounds beautiful on it. Trying to figure out how to interpret the song... 'Wild Roses' was pretty orchestrated anyway, so we actually just stripped it back more so that it had a point of difference to its original recording." Cave is the only duet on the album. Is there anyone else out there that she'd want to collaborate with?
"I've said for ages, Brandon Flowers of The Killers," she says with no hesitation. "I love the Killers. I think they're fantastic. Another person is Jonsi, of Sigur Ros."
And any girls?
"It's always been the guys. But girls... there's a wealth of amazing girl pop artists around at the moment. Besides from all the obvious ones, there's a girl called Kimbra, who sang on Gotye's single 'Somebody That I Used To Know'. I met her earlier this year. Someone like her would be amazing. And then there are other girls who are just starting out, like Sky Ferreira. I appreciate the girls who are doing it, better than anyone - like Beyonce - and girls who are just starting out and doing it, you know, going on a different road. I'm somewhere in the middle, I suppose."
'Somewhere in the middle' is the sort of typically self-depreciating comment that has endeared Kylie to millions. She has never displayed the look-at-me demands of so many starlets, or known to throw a diva strop. Today, she's the epitome of warm professionalism - taking on a queue of journalists but happily posing for photos with each following their interrogations. She politely deals with enquiries about her health - now fully recovered from her 2005 breast cancer diagnosis - and her boyfriend: "He's just a great guy, a big support... We're happy", she says of Spanish-born model Andres Velencoso, her beau for the past four years.
With an enviable history of hits, it's not surprising that she's often been approached to lend her expert opinion to a variety of TV talent shows. She admits to being a fan of this year's
X Factor
.
"It's started off as a good season. I think that the girls who are great are Ella and Jade, and the guy... Jahmene? He's out of this world. Just off the scale. And with Rylan," she says with a smile, "It's just been fantastic."
Would she consider being one of the judges?
"I'm asked that all the time, but I just haven't been able to say yes, yet. I know what a commitment it is. From watching my sister do it, it's full on. It's a great way to be in people's living rooms constantly for a few months. That part of it, that communication with the audience, I would like, but... I don't know. If Murray [her press officer] said, 'something's happened, you've got to go in, you're now in the seat', I would do it. I think thinking about it might be more difficult than just doing it, if you know what I mean? But those shows are here to stay, and I'm sure I've got something to offer, and I might even like the experience, but I just haven't committed to it. I haven't gone there yet."
Now aged 44, one senses that as she gets older, Kylie is keen to stretch herself creatively - both for her own benefit and to surprise her fans. This year also saw the release of
Holy Motors
- a riotously avant garde French fantasy drama from French director Leos Carax, which marked Kylie's return to the big screen. It was her first film role since
Moulin Rouge
, ten years ago. Alongside Anti Tour and The Abbey Road Sessions, 2012 will go down as the year in which she reminded the world that there's more to her than the Showgirl tag. I end my time with her by asking about a recent quote. In an interview to promote
Holy Motors
, she said, 'My persona is 'Kylie'. As soon as I step out of my house I have that projection of me. But that isn't necessarily who I am.'' What did she mean by that?
"Uh-huh. I did say that. I can't think what the conversation was, or what led me to say that, but I think I was talking about having to not be Kylie in this film. If I'm doing anything myself, I can play a character but you're still there to see a Kylie show. But a character in a film involves a different set of things. And the way it is these days, when you have paparazzi outside your house, or I'm in a restaurant and someone sees me or recognises me... I don't know... you have an idea of who you think I am. And probably a lot of it is how I am, because I'm pretty open and have always been pretty open with my audience, but that's not the sum of it."
Was this album partly to show a different part of your persona?
"I guess it is, yeah, although it's not why I did it, because I know that I can sound like this, and I have sounded like this, but for some people, they're like 'My God, I've never heard you sing like this before!'. I have, but they just haven't heard it, so... it's getting a response, which is great."
The Abbey Road Sessions
is out 29 October 2012.
An abridged version of this interview was published in Out In The City,
November 2012 © David Hudson