La Roux
October 2009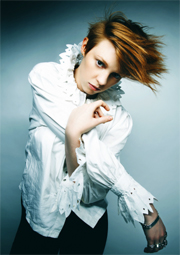 Elly Jackson is the frontswoman for La Roux - one of 2009's brightest pop discoveries. In this exclusive interview with David Hudson, the 21-year-old star talked about her new-found fame, the Mercury Awards, and why she likes to keep her private life private...
It's a common and not unsurprising misconception that Elly Jackson is, in fact, called La Roux. That's the name of the band she fronts, but although there are two full-time members, her partner in crime, the publicity-shy Ben Langmaid, has purposefully taken a backseat role when it comes to promotion.
The two were introduced by a mutual friend in 2006, and almost immediately began working together. The older Langmaid had already had some experience in the music business, working with Kubb and Rollo Armstrong of Faithless. Jackson, on the other hand, had merely been writing folk songs in her bedroom, inspired by her dad's collection of Neil Young and Nick Drake records.
Jackson grew up in the Herne Hill, South London, the daughter of actress Trudie Goodwin (who played the part of June Ackland in
The Bill
for many years). Langmaid discovered Jackson strumming her acoustic guitar at a party, but it was a mutual love of 80s synths and dance beats that united the pair, and the duo were soon working on their own Yazoo and Human League-inspired brand of melodic pop ("One day, me and Ben were working on a song and starting playing with some of the synths lying around at Ben's. We put a synth line over the acoustic track we had been working on and it just took off. From that day the guitar started to seem a little obsolete to us.").
With her strong sense of visual style, topped off by one of the most arresting barnets in pop - a gravity-defying bird's nest of flaming red hair ("La Roux" is French for "the red-headed one") - the decision was made to allow Elly to front the band.
Although her individual sense of style might have helped to get the band noticed, it was the duo's first proper single, 'In For The Kill', which propelled them in to the upper echelons of the charts in the spring of this year. It was a track that appealed just as much to Shoreditch-dwelling fashion kids as to the Radio One-loving masses. In the summer, they followed it up with 'Bulletproof', which duly debuted at number one. It was followed by their self-titled debut album, which immediately earned a Mercury Prize nomination and a heap of critical praise. In short, it's been a relentlessly busy year for Jackson, and it's taken several weeks to tie her down to an interview slot. We managed to grab her just before she boarded the Eurostar following some hectic European promotion.
Your schedule seems to be incredibly manic - is pop stardom more tiring than you imagined?
I think, yeah! I don't think it really matters what I tell you about it, because until you do it, you don't really realise. In fact, I'm glad no one did tell me, because I think I would have run away if I knew what it was going to be like! I think at the same time, you get used to it quite quickly. At first it's horrible, but then you get used to it. Also, it gets to a certain point where you can go... well, I'm not saying we're in a position where we can be picky about what we do, but I know I've got a weak immune system and can get ill quite easily, and it's sort of agreed with my management that we don't schedule 12 gigs in a row, one after the other, so I don't run myself into the ground, so there are little things that you can do to make sure that you don't get ill and run down.
You were recently nominated for the Barclaycard Mercury Music Prize. Glasvegas were also nominated, but singer James Allan reportedly went missing for a couple of days amidst rumours he was having trouble dealing with the pressure - can you emphasise with that?
I don't know because I don't know what he was going through, but in my circumstances, I think that's a bit dramatic. It's not that difficult. Obviously, everyone's different. Some people have an argument and then they'll cry, other people will have an argument and stuff and it doesn't bother them at all, it doesn't affect the rest of their day. Some people are more sensitive than others. So I don't know... for me, it's not a life-or-death situation. It's music, it's not something you need to see a therapist about or anything. Yeah, it's quite a lot of pressure, but...
If you want to do it, do it, and if you don't wanna do it, then don't?
Yeah. Don't do it and then be like that... 'tortured' person. Bit bored with all that.
How did you feel about not winning the award - were you disappointed?
No, not particularly. I think it was such a shock [
that the relatively unknown Speech Debelle won
] that it was difficult to really feel anyway about it, because I don't think anyone expected that to happen. It was such an unexpected outcome that no-one had any thoughts other than "Good on her!" I thought The Invisible were going to win. They were my favourites anyway. I never thought we were going to get it in the first place, so I never went with that feeling of "Oooh, I wanna get it", but yeah, it would have been lovely, but really, it's just nice enough to be involved. I know it sounds cheesey, but it's just nice to be nominated.
There are two of you in the group - do you ever wish Ben could do some of the promotional work? Has he got the easy ride?
Sometimes, but then I remember what he's like and I remember that it would be a disaster! [
laughs
]
What do you mean?
He's like me, but I've learned over the last year when to shut my mouth and when not to shut my mouth, and I've a feeling that if he ever came along and... my manager's looking at me in a way that says "Have you learned??" - well, I'm sort of learning, shall we say [
laughs
], whereas I think if Ben wer interviewed, it could be quite amusing!
Are you tired of talking about your hair?
Very! [
laughs
] I am tired about it, but then people ask about it and you can't really say that you're not going to talk about it. It's quite a large feature!
Did having a famous mum prepare you for the fame you're now experiencing or is it a whole different ballgame?
I think it's a whole different ballgame, but there are elements that you can transfer. There are certain pieces of advice that have been really useful to me. Just general stuff like interview technique, to remember to always stay relaxed, think about what you're saying before you say it, don't get pushed into a corner, don't drink before an interview, be careful what you say in public.
I read in an interview that many of the songs on your debut album were inspired by the break up of a particular relationship - is that true?
It wasn't a break-up but unrequited.
Was the person concerned aware of this?
Very aware, yeah.
With regards to being careful what you say in interviews, I wondered if you regretted being candid about this?
Yeah, the thing is... at the moment I've not had any kind of unhealthy paparazzi attention, and I really don't want to, and I think that talking about your private life is one of the things that encourages that sort of attention. So I don't want to bring anyone else into it. I don't like that kind of attention, so why would I like my friends or loved ones to have to deal with it either? So I just don't talk about it, and I think I have every right to keep it as a personal thing. There's enough information on the album!
If someone gives scant detail away about their private life, others often attempt to fill in the details. Given her androgynous appearance, it's not wholly surprising that there has been some interest in the nature of Jackson's sexuality. Rumours were further fuelled when she recently revealed she had been bullied at primary school, with one particularly nasty tormentor picking on her because of her red hair and tomboyish appearance ("There was an especially dark period where I nearly had to leave my primary school after this one girl relentlessly told everyone I was a lesbian and/or a boy... Which, when you're eight and a mixed-up tomboy, is really upsetting and confusing").
Do you have any advice for anyone who may find themselves in a similar position?
I don't think there's any good way of dealing with it at the time. Because I've been there, I know that it doesn't matter what anyone might tell you when you feel like that. It doesn't matter if someone tells you to ignore it, that "they'll be the ones without a job in ten years' time", or "they'll be ugly when they grow up", or whatever your mum says to you to try and make you feel better, that "we love you and can give you support and it doesn't matter to us". It doesn't matter what anyone says, even if someone says "she's a cunt - just ignore her." It still hurts. The only way I got over it was by growing up and developing my own confidence. And really, seeing those people who bullied me doing nothing with their lives, and mostly having children very young and not having jobs, and basically already reaching the end of that exciting period in their lives, while I'm just beginning mine... unfortunately, that is some kind of solace. After a while, you begin to realise how insignificant it was, and you think; "I can't believe I let that bother me so much", but you can't help it. When someone takes the piss out of you, it hurts. You just have to get through it and know that it's not going to last forever.
Do you think it's possible to stamp out homophobia in schools, or that kids will always pick on people that they view as 'different'?
The thing is, it wasn't even other kids, it was just this one girl who started calling me a lesbian - nobody else thought it. And I was seven or eight years old! I don't have a problem with it now, because I don't care what people think, but I did when I was eight when I didn't really know what a lesbian was. The only way you'll stop kids being homophobic is if you stop their parents being homophobic, because otherwise there's not really any way to stop it. Also, kids don't really know what they're saying at that age. I remember saying "you're gay!" when I was younger, but you don't really know what you're saying. You don't even know what "gay" means really - it's just a cuss, like saying "you're a poo head". It's the same thing when you're seven - it doesn't mean anything else.
How do you define your sexuality now?
I just don't really think it has a definition. I just really like people. I don't believe in sexuality. I don't believe in straight or gay or bi. I know that there are, obviously, straight and gay and bi people, but I don't really see it. I think it's only because we're brought up with those labels that we put them on ourselves. Otherwise, it would just be that you happen to like this group of people slightly more than that group of people - it's just a preference. You can be straight as you like, and then suddenly at 50 years old and you fall in love with someone who's the same sex as you. It just happens.
You recently commented that fans may have to wait a while for new La Roux material. Are you taking time out now?
I wouldn't really have said 'time out'! Time out in this instance only really means a couple of weeks. That's kind of the only time out that I can get right now. I've got a friend who likes in the Caribbean and I'm going to go and stay with her for three weeks over Christmas. Get away from the English Christmas... it's too much stress. So, I decided to take my family away for Christmas as a treat. So, I'm going to do that which should be really nice, and it will be miles away in the middle of nowhere. And after that, we'll get on with the writing. I'm not going to stop working or anything because I've only just begun.
La Roux's new single 'I'm Not Your Toy', and debut album, are both out now.
www.laroux.co.uk
An abridged version of this interview was published in Out In The City,
October 2009 © David Hudson