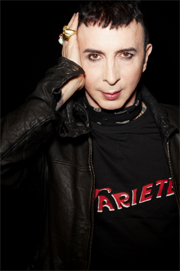 Marc Almond
June 2010
Life is a Cabaret...
The legendary

Marc Almond

is back with his first album of new material in almost a decade. He chatted to David Hudson about the rumours that it may be his last...
You gave an interview to Time Out in 2007 and said that you only planned to release one more album of your own material? Is Varieté that album, and are you still not planning to release any more self-penned songs?
I'll always write songs but in future if I do an album it's more likely to be a mix of my own and songs written by others. I'm the first to acknowledge that I'm not the greatest songwriter in the world, though I can come up with a few true gems amongst the rhinestones. There are songs written by others that I can express myself through better than I can through my own. Sometimes I can feel claustrophobic within my own songs. As I get older I probably have less to say that's original. I'm trying to get out of the 70's teenage world I'm stuck in sometimes - of being a teenager and coming to London and Soho. Soho is a little world I've set a lot of my songs in. This year I've written a final lot of Soho songs including 'Soho So Long' on Varieté and added a CD of Soho songs to a book of poems by poet Jeremy Reed, that's out in September called
Piccadilly Bongo
, and that's it as far as that world is concerned. I could have got a bigger deal with a major label this time if I'd agreed to do more covers on the album but I wanted this to be an album, if my last, done my way. The world doesn't really need more Marc Almond songs.
It's been ten years since you last released an album's worth of own material - why the long break?
My last album of all original songs was
Open All Night
which has just been re-issued with an album of bonus tracks - it was a very prolific time for me. Since then other projects have filled my time. I did an album in Iceland with Icelandic Producer Johann Jonannson and that featured some of his songs, and two albums of Russian Folk 'Romance' songs;
Heart on Snow
and
Orpheus in Exile
. I spent a couple of years living in Moscow to record them, and then because of the motorbike crash I was involved in, I stopped things for a while. While I was recovering I recorded
Stardom Road
, which was an album of cover songs.
Stardom Road
was really a recovery album in every way. My voice wasn't quite back, my confidence was shot and I was still weak and in pain. Despite the accident, the last decade has seen a good body of recorded work.
Many of the new songs sound very personal - is there any one song on Varieté that's particularly close to your heart?
There are a number of personal songs on
Varieté
. 'Sandboy', which is a song that looks back to childhood, like many of my songs. 'Cabaret Clown', which is quite brutal. I think 'The Trials of Eyeliner' is my most personal and favorite track on the album. I tend to mix personal elements with other people I've watched and observed - like a pervy stalker - to create characters and blur just what exactly refers to me. Hiding myself a little. I'm afraid that sometimes I'm too naked and I step back a little.
Some of the songs touch upon what could be deemed the 'queer culture' of yesteryear. Do you miss the gay subculture and scenes of the 70s and 80s, or do you think things are better nowadays?
I suppose I'm a person bruised and affected by my time, the time I grew up in, the 50's. I kind of liked - in a way - being a sexual outlaw; the subterfuge and living a secret life, being outside the establishment. At times it's become a bit homogenised - no pun intended - and if you don't fit into the mould of a Nu-Gay, you're left out. Of course things are better for gay people now, the prejudice and homophobia could be quite terrible then. I experienced it all my life, and certainly in the early 80's. Horrible and hurtful homophobic stories were spread about me and the press and comedians on TV poked fun in a nasty way. I was bullied though at school, I learned to survive and get through it but I'm definitely scarred by my time.
Homophobia seems to be on the rise again. There have been some terrible incidents recently. I get the feeling sometimes that with this new strong gay visibility there could be a backlash. It still can be bad for other gay people around the world. I wrote a song a couple of years back called 'Kill Me or Make Me Beautiful' after an Iranian proverb, inspired by the hanging in Iran of two young gay men. In Iraq, the death squads are back, killing people for being gay. The world seems to be getting worse where gay people are concerned. In Britain, we must appreciate how lucky we are and how others have suffered so that young gay people can have freedoms. What a great gay history and culture there is. Someone recently said, "there is no such thing as gay culture, only a rainbow flag and a bunch of disco records, that's not culture, it's a fad". They were so wrong.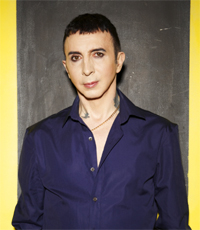 What is your view on civil partnerships? Could you imagine tying the knot yourself one day?
One thing I loved about being gay was I didn't have to do the things heterosexuals do, like getting married or having children. It just feels a bit 'establishment' to me, something the government would want you to do to keep tabs on you and make you confirm. Something that imitates an acceptable heterosexual lifestyle that's palatable to middle England. Having said that, I appreciate that it's just not for me. It's great that we live in a culture that allows gay couples the freedom to choose. Gay people should have that right and how dare others, especially religious nutters, deny us that. I think there's definitely a case for a gay couple to have a legal binding document - couples who may have been together a long time and want to legally protect their assets or simply to express their love and protect their partner's rights. Most of the time I don't see the point in heterosexual marriage either. People get married too quickly sometimes and, I feel, just for effect. It has no strong foundation and generally ends in divorce or unhappiness. Once it's legally binding, it creates a minefield of problems. I'm just too 'Old School' - I still prefer being called
homosexual
to
gay
.
What do you think of the Top 40 these days? Are there any mainstream acts that you enjoy?
I don't always follow what's in the charts but who doesn't love Lady Ga Ga?
How is your health? Have you recovered fully from your motorcycle accident of 2004, or do you still suffer from any lasting damage?
Recovery took a few years and life will never quite be the same again. I got terrible depression and felt reclusive. Head injuries are hard to get over and I'll probably suffer effects all my life. I have memory problems and I can't write like I used to and suffer balance and co-ordination problems but then again I always did - the accident worsened it. After the accident I learned to sing again. I worked very hard and the result is that I think my voice is better than ever now. The past couple of years, I got my real creativity back and I got a rush of prolific song writing productivity which resulted in
Varieté
.
You've spoken before about suffering from stage fright after the accident - has that lessened over the last half dozen years or is it still a problem?
It took me a while to get my confidence back. I couldn't go on stage without all the lyrics either written in a book or on auto cue, as my mind would go blank. I was worried I'd fall over, forget my lyrics or look terrible. Now I just don't care. Take me as you find me. Good or bad. I use lyrics onstage less and less now and I'm starting to enjoy live shows a lot more. Playing live was always my forte.
As someone who found fame in the 1980s, during Thatcher's heyday, how do you feel to see the Conservatives back at Number 10?
It really is an 80's revival again - music, clothes and Government. Thoughts of Margaret Thatcher's regime make me shudder and it's one reason why I can never look at the 80's with rose tinted spectacles. I remember rubber-gloved police in gay clubs. I watch with apprehension, bemusement and curiosity and hope that when David Cameron says the Conservative party has changed, I hope he means it. Of course there are remnants of the nasty, homophobic, Tory old guard still in the party but let's see if they get slowly marginalised. Let's see what he does for gays - we may be surprised. Let's face it, New Labour have messed it up and left a legacy of debt and war and rising crime and poverty, including increasing violent homophobia in what is called 'Broken Britain'. They have to regroup and get their act together. Whoever was going to be in charge this time has got a mess to deal with and are going to be unpopular with the vicious cuts they're going to have to make. I'm keeping a sceptical but open, hopeful mind for this Lib-Con pact for the moment.
What are your plans for the future now - short-term and long-term?
I've got
Varieté
coming out which I'm excited about, and another album being finished for next year called
Feasting with Panthers
. It's a collaboration with musician/arranger Michael Cashmore - it will be homoerotic and decadent sung poetry by the likes of Genet and Cocteau put to music. Hardly commercial, I know. It's the third of a trilogy of albums (after
Orpheus in Exile
), dealing with more gay themes than any of my other albums. I have a hits and singles tour in the Autumn - a 30 years in music celebration called 'My Best Bits', and then next year I start work on a song cycle by playwright Mark Ravenhill called
Ten Plagues
. Life's busy, but I wouldn't have it any other way.
Varieté
is out 7 June on Cherry Red records.
An abridged version of this interview was published in Out In The City,
June 2010 © David Hudson. Marc Almond images © Mike Owen

For the latest news on Marc Almond,
check out his website
here
.