Miami
July 2007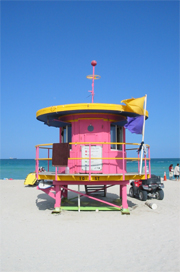 With its cosmopolitan population, tropical climate and art deco architecture, Miami is unique amongst North America's great cities. Hudson packed his trunks and set off to discover what it offers the gay traveler...
Due to an ability to burn after just a few minutes in the sun, I've never been much of a beach person. For that main reason,
Miami
was not previously one of those destinations I was aching to visit.
Don't get me wrong... I love the U.S itself, for its sheer size and diversity, but there are several cities I'd have opted to sample before landing at Florida's Miami International airport. My images of the city have been shaped by its portrayal in
Miami Vice
,
The Birdcage
and
There's Something About Mary
. It conjures up Versace, the repetitive beats of the winter Music Conference, and pastel-coloured art deco architecture. Offered a place on a press trip, I welcomed the opportunity to enjoy Miami in the flesh. It turned out to both surprise and delight.
For starters, a little bit of geography for you. When tourists think of Miami, they're probably really thinking of
Miami Beach
. Miami Beach and
Greater Miami
are actually two separate entities, as distinct from each other as Manhattan is to the Bronx; or North to South London. Miami Beach is separated from Miami by
Biscayne Bay
. Several causeways connect the two parts of the city. Miami Beach itself is split into
North Beach
,
Mid-Town
and
South Beach
. You want to book accommodation in South Beach - it's the most famous part of Miami, and is home to the iconic art deco district - the part everyone recognizes from films and TV.
Prepare yourself for the heat. Miami has a tropical climate. That's officially one where the average temperature never slips below 20 degrees C throughout the year. It's positively Caribbean, and palm trees line the streets. October till May is dry season, while June to September is the wet season. It's an ideal holiday destination at most times, but August is the month that many avoid, as there's a chance of hurricanes. During my April visit, the temperature hit 30C on several occasions.
Coming from London, it's disorientating to contemplate the city's brief history. One hundred years ago, none of this existed. The area was basically swampland and citrus groves. The arrival of the railroad at the end of the 19th century changed all that, and Miami (its name derived from the Native American term for 'sweet water') began to grow... and how! Dubbed the 'Magic City' for seeming to appear from nowhere, the city multiplied at a dramatic pace in the first half of the 20th century - hence the multitude of art deco design in the South Beach area. Given the number of skyscrapers and towers rising against the downtown Miami skyline, it's a city that continues to build at an alarming rate.
Miami boasts the sort of laid-back vibe peculiar to coastal resorts, and is one of America's most cosmopolitan populations. More than half its residents are Hispanic and Latin American, with a great number from Cuba, while African Americans make up another significant proportion. Several people told me that if you live here, you'll automatically learn to speak Spanish - it's impossible to avoid.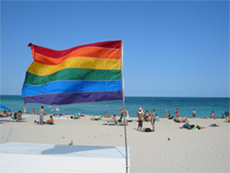 As a tourist resort, first and foremost, Miami offers miles upon mile of sandy beaches, dotted with brightly-coloured lifeguard huts. There's even a small stretch of gay beach, between the rainbow flags at around the 12th street area.
South Beach's most famous stretch is
Ocean Drive
, which overlooks the beach and is lined with hotels, restaurants and bars, which at the weekend are crammed with a young, party-loving crowd. There's a touch of Ibiza excess to the proceedings, with bowl-sized glasses of cocktails and hip hop and house tunes blasting from sound systems, while a parade of expensive sportscars and hatchbacks creep along the Drive itself. Miami is the destination America chooses when it's looking for a beach party - and it's hugely popular with students from across the Eastern states.
It's also a home to the rich and famous. Do take advantage of the local
Duck Tour
. This amphibious vehicle will take you on an illuminating trip around the city's streets, before plunging into Biscayne Bay itself. Here it will take you on a tour around the bay's small, man-made islands, such as Star Island and Hibiscus Island, both home to some of the most expensive waterfront homes in the States. Our tour guide was only too happy to point out the mansions belonging to
Gloria Estefan
,
Rosie O'Donnell
,
P Diddy
,
Shaquille O'Neal
and
Andre Agassi
.
The Duck Tour begins and end on
Lincoln Road
, another street that's buzzing with tourists and locals alike, being lined with shops, restaurants, cafés and bars. If you're looking for an alternative to Ocean Drive and the beach, come here to sit at one of the outside tables and while away a few hours just people watching and soaking up the atmosphere. Given the wealth of this city, along with the hip hop communities keenness to display some bling, there's no end to the designer stores and flashy fashions - or, it would seem, the number of diamante-encrusted sneakers and other accessories that you can purchase. Possibly because there's so much flesh on display in this tropical paradise, there's also a multitude of tattoos parlours, as made most famous by
Miami Ink
on Washington Avenue. If you've got a thing for cute Cuban guys in white vests and inked arms, you'll be spoilt for where to look.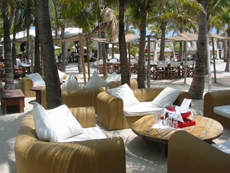 An essential stop-off is
Nikki's Beach
, at the southernmost tip of South Beach (1 Ocean Drive). An achingly trendy bar, restaurant, club and outdoor relaxation zone, we went along for the famed Sunday brunch - where $20 allows you to eat as much as you like from the buffet, ideally whilst sprawled on one of the beach beds or sofas placed directly on the sand.
Lest you begin to think that Miami's all about the beach and shopping, there is a more cultured side to the city, best exemplified by the
Design District
in downtown Miami. Home to a variety of design showrooms, galleries and upmarket furniture stores, it's also a main player in the annual
Art Basel
. This huge art fair takes place each December, and draws art lovers from across the globe.
As a gay destination, Miami is famed for its annual
White Party
and
Winter Party
. The former takes each November in the grounds of the beautiful
Vizcaya
mansion in
Coconut Grove
, while the latter is a circuit party that takes place on Miami Beach itself over six days in February and March. Besides this, the gay scene is a little on the small side, but the
Greater Miami Convention & Visitors Bureau
are keen to push the destination as a year-round gay holiday spot. On South Beach itself, do check out
Score
, on Lincoln Road, while the city's most famed nightspot is
Twist
. For some reason, I arrived expecting a Muscle Mary warehouse space, but nothing could be further from the truth. Twist is a warren of bars and dancefloors, with rooms dedicated to go-go's, hip hop, Latino and electro house. At weekends, it's suitably packed with a very diverse crowd.
My visit also coincided with the annual Miami Lesbian and gay Film Festival, with gay-themed films showing at many of the city's cinema screens and corresponding parties taking place at various bars and nightspots.
Miami is a city that thrives upon its tourist trade, and is therefore unsurprisingly geared towards ensuring you have pleasant stay. With a wealth of affordable hotels and restaurants, and a multitude of attractions, you're pretty much guaranteed to have a brilliant time... whether you're a beach person or not.
Links
www.whiteparty.org
- November 21-26 2007
www.winterparty.com
- February 27-March 3 2008
www.artbaselmiamibeach.com
- 6-9 December 2007
www.gogaymiami.com
www.twistsobe.com
www.nikkibeach.com
Food
* 81/2, 825 Washington Avenue, Miami Beach, Florida, FL 33139.
www.clintonsouthbeach.com
* Sushisamba, 600 Lincoln Road, Miami Beach.
www.sushisamba.com
Michael's Genuine Food & Drink, 130 Northeast 40th Street, Atlas Plaza, Miami, FL 33137.
www.michaelsgenuine.com
* Santo, 420 Lincoln Road, Miami Beach.
www.SantoMiamiBeach.com
* Oriente, Cardozo Hotel, 1300 Ocean Drive, Miami Beach, Florida, FL 33139.
www.cardozohotel.com
* Nikki's Beach, 1 Ocean Drive, Miami Beach, FL 33139.
www.nikkibeach.com
Accommodation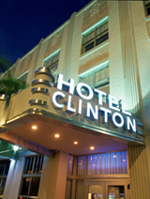 * The Clinton, 825 Washington Avenue, Miami Beach, FL 33139. + 001 305 538-1472.
www.clintonsouthbeach.com
* Catalina, 1732 Collins Avenue, Miami Beach, FL 33139, USA - + 001 305-674-1160.
www.catalinahotel.com
* Whitelaw, 808 Collins Avenue, Miami Beach, FL 33139 +001 305-398-7000.
www.whitelawhotel.com
* The Pelican, 826 Ocean Drive, Miami Beach, FL 33139. +1 305-673-3373.
www.pelicanhotel.com
* Circa 39, 3900 Collins Avenue, Miami, FL 33140. +1 305-538-4900.
www.circa39.com
This article first appeared in Out In The City, July 2007 © David Hudson