Patrick Wolf
March 2007 - Wolf Boy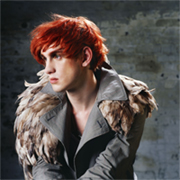 Twenty-three year old, folk-electronica popster

Patrick Wolf

can play harp, harpsichord, guitar, piano, autoharp, organ, Theremin, ukulele, viola, and violin. Born in south London, he's already released two albums on small independent labels, but is about to release his third,

The Magic Position

, on Loog. Hudson caught up with him during his recent UK tour...
You were originally hoping to get this album out last summer - why all the delays?
Heartbreak?
Really?
If you can imagine doing a whole album, and producing it and it's a testament to your relationship and it kinda fell apart during the mixing of it, and then I couldn't couldn't concentrate on the record, I fell apart and went and started a new one. It was a catalyst for stopping the record and for having a change of life. I moved house, moved my brain and my heart, and then started the record again.
You partly recorded the album in Vienna - what drew you to that city?
First of all, I really wanted to get out of London to record. I find it hard to record in London, being born there. It can be a creatively bleak space, so I went to Vienna to give myself some space. I knew an engineer and producer called Patrick Pulsinger, and I asked him if he'd work on my record, and we sat there in the studio for two weeks in Vienna, and I wanted to make a grand, baroque statement with this record, and Vienna was good for that. I had my own fun there, but it was very cold and the middle of winter and I was staying on my own in a hotel on the outskirts of town, by a disused fun-fair.
Is that where the idea for the cover image comes from?
It's strange really, but funfairs have kind of popped up over the years. I had a tour manager that was obsessed with roller coasters, and he always used to find theme parks for us. It was just a real, Kelly Marie, 'Feels Like I'm In Love' feeling, spinning around on a carousel, listening to hardcore techno.
It's a strong cover - and possibly the gayest we've seen in years...
[laughs] I'll take that as a compliment. I... erm, think it's about time someone did a good front cover. I'm definitely from the Spice Girls school of visual imagery - very brash and in your face.
The new album features Marrianne Faithful - how was it working with such a legend?
I met her for two days, I had her over from Paris. It was a long time coming. I decided about seven months before and was told by her manager that you had to book Marianne six months before if you wanted to do something with her, so six months later I had to play the song to the manager in a piano shop in Kensington, and then we went into the studio after spending a day together in the hotel, swapping stories. I think it was a powerful and personal duet for both of us - very much an emotional exchange.
When you sing 'you put me in the magic position', what's that actually all about...?
[laughs] What would you like it to be about? It can be extremely sexual, or extremely naïve and innocent, it can be like being put in the perfect position in my life, or something magical like white magic, or something dark and sexual.
And is there anyone putting you in the magic postion at the moment?
No, I'm married to my harpsichord, I've got no time for funny business at the moment.
Reading your biography, you started making music very young, and can play so many instruments, do you think you were born to do this?
Yeah, I don't think I could do anything else really. I tried working in a sandwich shop but got fired for making the wrong type of fish sandwich. I tried to be a sushi waited, and then worked in a bead shop, and then busked in a string quartet but didn't like playing other people's music, and then was an accordion-playing busker and didn't like that. This is definitely what I was born to do. I don't have any A levels or any degree in anything, so am pretty fucked if I don't sell any records.
Do you find yourself thinking commercially?
Well, I find myself in a position now where I don't really have to worry about it. Before I've had to worry about how much merchandise I was selling in order to pay the rent. I've had my own business for the last four years, so there is that side of it, however boring for most people, where I have to pay my bills. I'm not aiming for a palace or anything, but it's nice to feel comfortable when you've worked hard.
An abridged version of this interview was published in Out In The City, March 2007 © David Hudson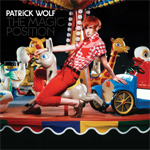 To purchase the album from Amazon, click on the image on the right. For the latest news on Patrick Wolf, check out his website
here
.