Stephen Jones
March 2010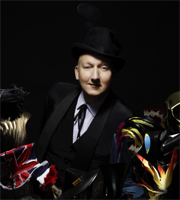 One of the world's most famous hat designers, milliner Stephen Jones was recently awarded an OBE for his services to fashion. He talked exclusively to David Hudson about his career to date...
Stephen Jones was born in Cheshire in 1957 and schooled in Liverpool, but escaped to London in the late 70s for the arrival of punk and corresponding explosion in street style. Living in the infamous Warren Street squats, alongside Boy George, Marilyn, and other Blitz kid luminaries, by day he studied fashion at St Martin's College, while by night he became a face on the fledgling New Romantic scene. After discovering the art of millinery, he switched from designing clothing to hats, and opened his first salon in 1980 in Covent Garden. The store became a regular haunt for both rock stars and royalty, with the likes of Lady Diana ensuring Jones' work became a regular feature on the pages of the best magazines.
His star has consistently shone ever since, and he has designed for everyone from Kate Moss to Kylie, Gwen Stefani to Alison Goldfrapp. He has also collaborated with many of the world's best designers, including Vivienne Westwood, Thierry Mugler, Jean-Paul Gaultier, and, lately, with John Galliano for Dior. In 2009, he was invited to curate an extensive exhibition on the history of hats at the V&A in London. The show proved such a success that it has now embarked on a seven-year world tour, beginning soon in Australia. The success of that exhibition was topped by an OBE in the Queen's New Year's Eve honours list. He lives with his partner, Craig West, in Battersea and, despite his stellar success, remains one of the most down-to-earth and unaffected men in fashion.
How did you feel when you heard that you'd been awarded the OBE?
I was gobsmacked. Really, really thrilled to bits. It came in a letter. I just couldn't really believe it. This has been an amazing year for me and this really topped it off.
Was it a complete surprise?
Yeah. People have said to me, after the V&A exhibition, you're surely going to get something sooner or later, and I just pushed it out of my mind really. And although I got this, it wasn't somehow just for me. I felt it was for all the hat makers in general. Just for the whole hat business and industry and all the milliners I know in London and around the world. The exhibition in London was about them too, not just about me. And it was a reward for all of that and for all of them, too.
What other proud moments stand out for you in your career?
Lots of them. Hopefully there will be more over the next few weeks when we're doing the new shows, because it's always like the first time - you never quite know how it's going to go. I think probably getting my first-ever magazine cover, which was Tatler, I was amazed by that. Coming to work in Paris, that was another really major moment, and starting to work with John Galliano. I think those really have been the main moments. If you're in the creative industries it's essential to be proud of what you do, really. That has to be part of your being, because if you wanted an easy life, you wouldn't be doing what we're doing, so you have to be proud of it. You have to love it, otherwise what's the point? Life's too short.
I know you've been asked this before, but what first drew you to hats?
It was completely by mistake, completely by chance. I was at St Martin's doing women's fashion, but I couldn't sew. I went to a couture house on a day release to learn a bit about tailoring, and I ended up working in this millinery workroom, and I just loved it. Somehow, it's about making a solid object. I was better at that than making fluid objects. That's the big difference. Whether it was sailing ships made out of cardboard boxes or castles in the sandpit as a boy, I'd always loved making things.
Do you get more pleasure from designing women's hats? I read that you consider men's and women's hats to be totally different ballgames.
Yeah, absolutely. With women's, it can be a complete fantasy, it's really - you have carte blanche. Men's are much more specific, but actually, that doesn't mean that men's are any less interesting. It's always quite good to have a brief to work to anyway. Making hats for men is always a challenge, because men always have specific views on how they want to appear.
And they're generally less daring?
Yeah, but there are always exceptions to every rule... some of my male customers always like to push it and want something quite extravagant, whether it is extravagant in the shape or detailing. It does tend to be the more peacock-minded males that come to have hats made.
How did you find the process of curating the V&A show?
Well, I really went with no preconceptions of what it was going to be or be about. Because I really didn't want to approach it with... well, my experience, in a funny way. It was quite difficult in the beginning, because I was trying to be so objective about everything. I was trying to slightly disassociate myself from everything, and I got a bit freaked out, and then Oriel Cullen, my co-curator, said to me one day, "Well, Stephen, the reason that you're here is that everybody wants your point of view." And once I'd actually relaxed a bit about that, I was able to get on with it, and it became much more fun and easier to do. But I'd never curated an exhibition before, and I didn't know what went in to it, and now I do. But also I really wanted to start from the hats. It's very easy to start from books and do second-hand research, but I really wanted to do first-hand research, because for me, it was the opportunity of a lifetime.
You must have found it inspirational?
Oh, totally, and quite humbling as well. Because then I saw hats that had been made from other hat makers and milliners, I would think "What fantastic technique", or "how alluring". What a sense of presence or confidence that must have brought to the wearer.
Does the constant rotation of fashion shows and seasons ever become tiring? Do you ever crave a sabbatical?
No, actually I don't. I do find it completely exciting and engrossing all the time. Don't say the word 'obsession' [laughs]! But hey, it's a great thing to have an obsession about. And also I think, to be obsessed by the thing that you do is actually a privilege, because for most people, life is not like that. Life's not like that for 99.9% of the population, so I'm very lucky to be doing this. And always thinking of new hats, it's like a great adventure every season, and sometimes it works out beautifully and other times it doesn't work out so great, but... as Oscar Wilde said, fashion is a thing that's so ridiculous, it only last six months, so fortunately you move on to the next thing [laughs].
Does the recession pose challenges to you - both as a businessman and also as a designer?
Absolutely. You know, shops that we sell to don't have the money that they used to, designers don't have the money. And even for those people who are very wealthy and who will come to have a hat made to measure for £600, they are not wanting to spend money on things that are so much about display. They will go on a wonderful holiday, or something like that, but they are probably not buying an expensive hat. Not at the moment. Maybe when it comes round to spring they will do. It's changed the nature of my business, but I think that doing the exhibition at the V&A has changed the business most of all. There are lots of different things happening.
It led to you doing the hats for last year's Coco Before Chanel film - was that your first film work?
No, I've worked on different films. I did
Elizabeth, The Golden Age
and did hats years ago. I don't do too many films because hats for filmmaking tend to be made by different people, but the reason why I was asked to do the hats for
Coco Before Chanel
is that she was a milliner, and they wanted to have a milliner's eye working on it. It's not just about a question of different costumes, we discussed lots of how she would be and how she would behave, there were lots of different levels. There is usually a specific reason why a film company would get me in to do hats, but they're great to do, and it's wonderful for me to meet the actors and actresses who are going to wear them, because, it's great when... well, when an actor puts on a hat they can really work it. That's what they do. The great thing that Audrey Tatou said to me when I put one of my hats on her... she'd had costume fittings for the film before but not hat fittings, and I came in, and she looked at herself in the mirror and said, "Fantastic, now I have to act less." I think she knew that the hat could do a lot of acting for her, so she could be more subtle. She's a very clever actress.
You are very much at the top of your game - what ambitions remain?
[Laughs] To live until tomorrow! Everyday is a complete challenge, and that is the thing about fashion, you have to reinvent yourself every six months. You have to keep going and produce a fantastic new collection. That's a huge thing, but there are lots of projects in the pipeline at the moment, and the exhibition is traveling on to Australia, and then on from there. I'm doing another exhibition in Antwerp, which is a solo exhibition - that's going to open in September this year. As well as that we have a few other different business projects, which I can't talk about now, sadly.
You were a legendary club kid when you were younger. Do you still go clubbing?
Yeah, occasionally, but not so often. But the great thing is, if you hardly go to clubs anymore, when you do go out, you have the most fantastic time. You love everything.
You squatted at the beginning of the 80s in the infamous Warren Street squats, alongside Boy George and other club kids. Thirty years later, you've probably enjoyed the most consistently successful career - how does that make you feel?
Great, and it's funny, because I'm still in touch with so many of those people from all those years ago, and, they were a very, very important part of me and my success. So often, students say to me, "How do you become a success?". Well there are lots of things - money, luck, etc, but you need the blessing of all your friends. You can't do it by yourself. You need a whole group of people to do it with you and I was very lucky to have a whole group of people who wanted to help me and believed in me... and I believed in them. We were helping each other.
Does it feel weird to have become part of the establishment? Do you feel part of the establishment?
Have you seen the picture advertising Ascot this year?
No.
It's actually really funny. It's basically a picture of me and all sorts of different people - Ronnie Corbett, Cilla Black - and the heading is 'The establishment', it's very well written and cleverly done - like some nightmare re-enactment of
To The Manor Born
[laughs]. Do I feel like an establishment figure? I don't know. It's never really occurred to me. I am an old punk, slightly older even than most of the Blitz kids. Am I part of the establishment? I guess I am in a way. Yeah, it's a funny notion to me, but then again, I am 52, so does the establishment come with age? Maybe not - you can see some people and they already seem like part of the establishment at 18 or something. And you see 70-year-olds who have young heads on old shoulders, so I don't know about that one really. I'll have to think about it a bit.
And you live with a partner?
Yeah, my boyfriend Craig. We've been going out for 20 years.
How did you meet?
[Laughs] Well funnily enough, he came to me for a job! We were working together for about six months and then one weekend, well, we got it together. And then he stopped working for me, as we decided that would be for the best, and he started working for Muji, and then, about ten years ago, somebody went off sick and we started working together again. So, to my complete amazement, we've been going for 20 years. I'm still not used to it.
Have you had a civil partnership?
No, not yet. We're trying to get around to that. We tried to get around to it about two years ago but it still hasn't happened. Too many fashion shows - that's the problem!
www.stephenjonesmillinery.com
Image © Justinephotography.com

An abridged version of this interview was published in Out In The City,
March 2010 © David Hudson