Stockholm
September 2009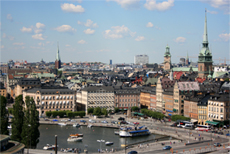 Swedish capital Stockholm offers expansive waterways, quaint architecture and contemporary design. David Hudson enjoys a midsummer break in 'the Venice of the north'...
If you're knowledge of
Sweden
begins with Abba and ends with Ikea, then let's start with a quick geography lesson. Sweden is the long, narrow Scandinavian country sandwiched between Norway (to the west) and Finland (to the east). Almost twice the length of the British Isles, it would take a good 3-4 days to drive from the south to the north. Not that you're likely to make such a car journey. The northern end is pretty barren and inhospitable, and plunged into darkness for much of the winter. The majority of Sweden's nine million population reside in the south, with many living within its three main cities:
Gothenberg
,
Malmo
and
Stockholm
.
If you're thinking of visiting Sweden, then as a starting point, capital
Stockholm
is pretty much the best place to begin. It's estimated that a fifth of the Swedish population reside in the city's metropolitan district, with 800,000 in its city centre. Stockholm is also home to the country's parliament and to its royal family. If that weren't enough, it's unusual geography also makes it one of Europe's most picturesque cities.
Stockholm is officially spread out over 14 islands, which lie at the meeting point of the
Baltic Sea
and the freshwater
Lake Mälaren
. For this reason, it has often been dubbed the "Venice of the north", and though it lack's the Italian city's over-priced gondolas (no bad thing!), the city is dominated by its waterways and harbours.
Like many European cities, Stockholm has its 'old town' and more modern districts. It has been the cultural and business centre of Sweden since the 13th century, and although there are no buildings dating quite back that far, its most historic region is the island of
Gamla Stan
. Here you'll find narrow, cobbled streets and quaint 18th and 19th century townhouses and apartment blocks. Those with an appreciation for history must also visit the
City Hall
on
Kungsholmen
. Although it was built comparatively recently (being completed in 1923), it actually appears considerably older. A rather plain, redbrick building from the outside, it's interior contains a number of baroque and sumptuous rooms and halls, including one decked out almost entirely in gold leaf. It provides a suitably awe-inspiring backdrop to the celebration of human excellence that is the annual Nobel Prize ceremony.
Many of Stockholm's attractions vary depending on when you choose to visit. By far the most tourist-friendly time is the summer. Contrary to the image of Scandinavian countries that you might hold, summer's can be warm and sun-drenched. I visited during the last week of June, and enjoyed four days of blistering sunshine without a cloud in the sky. Because of the city's northern location, daylight hours are longer. The sun didn't set till 11pm, and then rose again at around 1.30am - a strangely disorienting experience.
Conversely, in the depths of winter, Stockholm only experiences around five hours of daylight each day. This has ensured many Swedes enjoy an appreciation of light that may seem alien to those from more temperate zones. Many don't bother with curtains in their homes - they're a wholly unnecessary furnishing in the winter, while in the summer the locals like to allow as much sunshine into their lives as possible. They love candles and beautiful light fittings - you will quickly lose count of the ornate chandeliers that seem to appear everywhere.
Unsurprisingly, summer is the best time to enjoy the city's waterways, with frequent guided boat tours. The islands that make up Stockholm are an extension of the Stockholm archipelago - an area containing a staggering 32,000 islands. Many Swedes escape to the archipelago during the summer months, for day trips or longer. There are an abundance of summer cabins on the islands, while with licences granted for approximately 350,000 private boats, there's no lack of transport!
Given that sunshine is so precious and appreciated by the locals, its beloved café culture moves outdoors for the summer months. When the weather is fine, your first port of call should be summer restaurant and bar
Mälarpaviljongen
(www.malarpaviljongen.se). On the banks of the Baltic Sea, on the southern side of Kungsholmen, this decked, floating, open-air bar and café venue gets packed whenever the sun peeps through the clouds. Even better, it's officially gay, and its owner, Arto, has long been active on the local scene. That said, it's enviable location and friendly service attracts a very mixed crowd, and it offered a distinctly
Sex & The City
/Soho House sort of vibe on the early evening of my visit (Arto confided that it "gets gayer" as the evening progresses!).
Stockholm - like the rest of the Sweden - appears very gay-friendly. LGBT people enjoy the same rights as their heterosexual counterparts, including the right to hold civil partnerships (sometimes in the stunning City Hall) and to adopt. Perhaps because of this, many of the gay venues boasted a very modern and mixed vibe. Check out the intimate but stylish
Torget
in Gamla San (Mälartorget 13 - www.torgetbaren.com), offering drinks, DJs, plus a far-better-than-average food menu. For more of a late-night drinking hole, there's the cosy
Side Track
(Wolmar Yxkullsg 7 - www.sidetrack.nu), a basement bar and restaurant that seems to have been embraced by all sections of the scene. Late night clubbing action is offered at
Kolingsborg
on Slussen. This 500-capacity club is spread over two rooms, offering cheesy pop (or 'schalgermusic' to give it is proper Swedish term), harder dance and drag shows. Check out Paradise on Fridays and the busier
Libra
on Saturdays (www.paradisesthlm.com and www.librasthlm.com). There's also more mixed clubbing at the
Guldrummet
(Gold Room), a separate room for gay folk every Friday and Saturday night at
Ambassadeur
(Kungsgatan 18), and at the nightclub at the
Berns Hotel
(Berzelli Park - www.berns.se), which attracts a young and fashion-conscious crowd at weekends. For those looking for something a bit more atmospheric, head straight for the
SLM
(Wollmar Yxkullsg 18 - www.slmstockholm.se), the local leather club. It's a men-only, cruise hole that's particularly popular on Saturday nights. There's a strict dress code, but they keep a selection of boots on hand for any tourists who turn up in the wrong footwear!
An especially good time to visit is for the annual Pride celebration, which tends to take place around the first week of August (
www.stockholmpride.org
). The 2008 event was the biggest yet, and was a joint Europride celebration that the entire city appeared to support and enjoy. For more details on everything scene-related, download the listings published by local gay magazine
QX
(www.qx.se)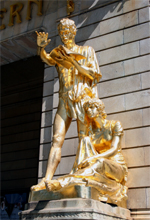 Away from the scene, Stockholm has no end of scenic and historical attractions. Visit the garden and home of the late, celebrated sculptor
Carl Milles
(Millesgården), with its leaping and jumping figurines (the Swedes treasure sculpture and Stockholm is dotted with statues at almost every street junction and park). Take a guided tour of the amazing
Hallwylska museet
(http://hwy.lsh.se), a palace from the early 20th century that has been preserved in exactly the state that it was bequeathed to the city after the death of its enigmatic mistress - Wilhelmina von Hallwyl - in 1930.
If the weather's warm, take a subway to the small woodland island
Långholmen
, and enjoy a dip in the Baltic Sea, a punnet of freshly-grown strawberries and a quick tour of the old disused penal colony (part of which has been turned into a boutique hotel - www.langholmen.com). Take a walk around the city's royal palace, pick up lunch in the classic Saluhall indoor market in östermalm (www.saluhallen.com), or browse the vintage clothing and trendy designer stores in
SoFo
- the re-branded shopping district of southern island
Södermalm
. As one would expect from the country that gave us Ikea, there is no lack of stores demonstrating the Swedish love of clean and contemporary design.
"Isn't it expensive?" was the most frequently heard comment when I told people that I was visiting Stockholm, and it's true that Sweden is not one of Europe's bargain basement destinations. However, tourist attractions such as the boat tours or the Tivoli funfair seemed reasonably priced. Restaurants, hotels and taxis seemed comparable to London, so yes, perhaps pricey, but no more so than what many will be used to if they live in the UK capital. This will, of course, fluctuate depending on the exchange rate. Sweden has so far weathered the credit crunch considerably more successfully than the UK!
Stockholm is a city of contrasts - between the historical and the contemporary, the water and land, and the darkness and the light. As such, it's quite unlike any other city. The mix makes for a magical and enchanting destination, where the only consistency is the warm welcome that you should receive from the locals.
SAS fly direct between London and Stockholm from £123.20 return - check
www.flysas.com
Links
http://visitsweden.com
www.stockholmtown.com
Accommodation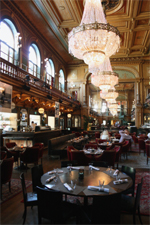 *
Berns Hotel
(
pictured right
) is a super stylish hotel in the heart of Stockholm that combines the old with the modern. The restaurant part of the building dates back to 1863, and still retains many of its 19th century fixtures and fittings (including several huge chandeliers). However, the actual hotel part of the operation was added to the building just 20 years ago. To celebrate its 20th anniversary, it just unveiled 17 new, luxurious designer guest rooms, bringing its total capacity to 82 rooms. This boutique residence also has its own nightclub, which is popular with a gay and fashion-conscious crowd at weekends. For further details, check
www.berns.se
* A new addition to the Stockholm hotel scene is the gorgeous
Clarion Hotel Sign
on Norra Bantorget. It offers several hundred guest rooms of varying levels of luxury, along with a rooftop Selma City spa and swimming pool - open to guests and non-residents.
www.clarionsign.se
* The
Nordic Light Hotel
is another designer hotel that exploits the Scandinavian love of design and illumination, with bespoke and unique light fittings in each guestroom. It also offers a near-legendary Sunday brunch buffet!
www.nordiclighthotel.se
* Hotel Le Soleil, 567 Hornby Street, Vancouver, BC, V6C
+001.877.632.3030.
www.lesoleilhotel.com
* The
Grand Hotel
is one of Stockholm's most famous hotels (attracting many passing celebrities), and one of the pricier. It also has one of the city's very finest restaurants - Mathias Dahlgren.
www.grandhotel.se
This article first appeared in Out In The City, September 2009 © David Hudson