Vienna
September 2010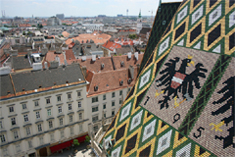 David Hudson enjoys a relaxing weekend - and far too many sticky pastries - in Austria's beautiful and history-rich capital city, Vienna...
There's something enigmatic but alluring about
Vienna
. Despite a city-centre façade of quaint 19th century architecture, cobbled alleyways, imposing masonry and imposing statues, there's always the suspicion that there's more going on beneath the surface; quite literally so in the 1949 film-noir classic
The Third Man
, which culminated in a chase in the city's historic sewer system. That film helped shape popular conceptions about the city as a cold war hotspot, where shadowy forces worked in secret offices and spies lurked in dark street corners. There remains a cinema in the centre of Vienna that still shows the movie every week, and it's possible to enjoy a 'Third Man' tour of the famous sewer system (if you don't mind the... um, aroma). It's a conception of the city that was recently reinforced when Vienna was used as the destination for the latest spy swap between east and west - when ten Russian agents were expelled from the US in July 2010 - the biggest such exchange since the demise of the cold war.
Austria's capital has a long and illustrious history. Formerly the centre of the far-reaching Austrian empire, it enjoyed great wealth in the 18th and 19th centuries, with rich patrons allowing cultural initiatives to flourish. Both
Beethoven
and
Mozart
composed their finest works in the city, while for many, the work of
Johann Strauss
remains the quintessential Viennese soundtrack.
The Austro-Hungarian Empire collapsed at the end of World War 1, and the nation's wealth was immediately stymied. Vienna, effectively, found itself existing on a tight budget. It suffered less damage in WW2 than other European cities, and whereas London and Berlin underwent significant post-war regeneration in the 50s and 60s, Austrians simply couldn't afford to construct hundreds of new buildings. Instead, in the city centre at least, the Viennese concentrated on simply preserving what they already had - beautiful town houses, apartment buildings, government offices and halls dating back all the way to the 1700s. It may have been one of the poor men of Europe in the mid-20th century, but in hindsight, the city is arguably culturally richer because of this period of austerity, and it remains one of the continent's most beautiful capitals.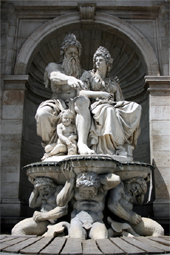 Vienna now has a population of approximately 1.7 million - making it easily the biggest city in Austria and the tenth biggest in the European Union. To appreciate the city's wealth of classical and baroque architecture, make sure you stay as close to the centre as possible. Must-see tourist haunts include the
State Opera
(Staatsoper), the beautifully gothic
Rathaus
, the seat of the city council, and the expansive
Hofburg Palace
- former home to members of the Habsburg dynasty. The palace dates back to the 1300s, but has had successive wings and extensions added over the centuries, making for an evolving selection of architectural styles. You could spend an entire day exploring the baroque
Schönbrunn Palace
, the former summer home of camp icon Sisi, Empress of Austria (1837-1898), wandering the maze or enjoying the Palm House and Gloriette.
There's also the imposing
St Stephen's Cathedral
. Even if you're not of a religious bent, it's worth paying the €2 charge to take the cupboard-sized elevator up to the top of the spire of this exquisite building, as it offers one of the most breathtaking views over the oldest part of the city.
Modernists will be pleased to know that Vienna is not wholly antiquated. Near the Hofburg Palace is the
Museum Quarter
, which houses around half a dozen museums, including those specialising in modern art and modern design. For added thrills, head to the
Vienna Prater
(2., near Praterstern - www.prater.vienna.info) - an amusement park with more than 200 attractions. A short tube ride from the city centre, it features the oldest Ferris wheel in the world, plus a 1,500 acre area of woodland fields and meadows.
Because of its size, the centre of Vienna can easily be covered on foot. Plan you own walking tour or, if you can afford it, hire your own personal guide. I was shown around by Andreas Brunner (www.qwien.at), who was able to not only show me all the main tourist sites, but also point out smaller alleyways of interest, such as the former home of noted British writer
W H Auden
.
After a few hours of admiring the buildings and browsing the museums, you'll want something to eat. If your idea of heaven is sitting in a café with a cup of frothy coffee, a traditional wiener schnitzel or an indulgent slice of cake (or even a bottle of cold Austrian beer), then you'll find yourself spoilt for choice. Café culture remains a dominant force in the Austrian capital, with
al fresco
dining commonplace, as well as grandiose establishments and ornate patisseries in many of the older buildings. Recommended destinations include the
Mozart bei der Oper
(1., Albertinaplatz 2 - www.cafe-wien.at), which dates back to 1794, and the
Hofburg Café
(1., Hofburg/Innerer Burghof - www.cafe-wien.at), within the Imperial Palace itself.
Sperl
(6., Gumpendorfer Straße 11 - www.cafesperl.at) appears relatively unchanged since its creation in 1880, while
Café Leopold
(7., Museumsplatz 1), in the aforementioned Museums Quarter, offers a more contemporary welcome. The art nouvea-ish
Café Savoy
(6., Linke Wienzeille 36) is a must-visit, being one of the most stunning gay establishments in the city and a decent example of Viennese café culture to boot (although its only open from 5pm onwards). The smaller
Café Berg
(9., Berggasse 8) is a smaller lesbian and gay café and restaurant, near the university and with an adjacent gay bookstore. It's open daily from 10am till 1am. The simply named
Phil
(Gumpendorfer Straße 10 - www.phil.info) is a fabulously hip and eclectic space, offering a café, book store, record store and plenty of opportunity for intellectual lounging, while for total Austrian splendour, order a traditional bowl of apple strudel at
Gerstner
(www.gerstner.at); the restaurant in the domed hall of the city's
Kunsthistorischen Museum
(1., Maria-Theresien-Platz).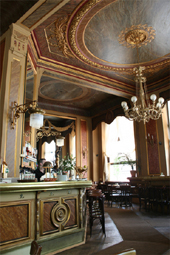 In terms of gay scene, Vienna has more than enough to keep those on a weekend break occupied, although even its most die-hard fans will concede that it's not designed to be a party town. There are no warehouse-sized dance arenas, but plenty of cafés and smaller bars, plus some weekend clubbing. Other venues in the same vicinity as the aforementioned
Café Savoy
(
pictured right
- near the Ketlenbrückeng underground station) include
Mango
(6., Laimgrubengasse 3) - with its contemporary orange interior favoured by a youngish crowd and
Village
(6., Stiegengasse 8). Cross the Naschmarkt (flea market) and head south a couple of blocks and you'll find the
Alte Lampe
(
The Old Lamp
- Heumühlgasse 13 - www.altelampe.at). One of the oldest gay bars in Vienna, this traditional bar is a treasure trove of knick-knacks, and is popular with an older crowd and bears. Near to this, you'll also find
Motto
(Schoenbrunner Strasse 30 - www.motto.at) - a trendy, gay-run restaurant staffed by waiters that probably double-up as models. It's popular with a
Sex & The City
-style metrosexual crowd from across the spectrum. For more late-night action, there's the small but perfectly-formed
Why Not
(1.,Tiefer Graben 22 - www.why-not.at), which has recently undergone a refurbishment. Drink upstairs or head downstairs to the pocket-sized dancefloor for current chart hits. A little edgier is
Heaven
(www.heaven.at), a Saturday club that offers an alternative disco in one room, plus minimal, hypnotic electro house on its main floor, with weekly cabaret being presided over by
Tamara Mascara
- current doyenne of the Austrian drag scene.
Those looking for more leathery delights can head for the
Eagle
(Blümelgasse 1 - www.eagle-vienna.com) - where red lighting and video screens shine down upon black walls covered in posters and flyers from previous debauched parties. No mention of the Vienna gay scene would also be complete without a mention of
Kaiserbründl
(Weihburggasse 18-20 - www.kaiserbruendl.at). A sauna and bathhouse has stood on this site for a couple of hundred years, and has even been the setting for a royal scandal at the beginning of the 20th century when the then emperor's brother tried to get over-friendly with an army officer. The establishment is now a very popular gay destination, but the owners have worked hard to retain many of the building's original features. If bathhouses are your thing, this vast establishment is possibly the most beautiful in Europe.
Vienna is generally very gay-friendly. I visited in July, and for the duration of the month, all the city centre trams bore small rainbow flags in honour of the gay pride festivities. Another good time to visit is for the annual
Life Ball
(www.lifeball.org). This huge fundraiser for HIV and AIDS charities has become one of Austria's biggest events - attracting such celebrities as Elton John and Bill Clinton as special guests. Annie Lennox was the star performer at the most recent event. Next year's ball doesn't take place until July, so you've plenty of time to plan your outfit... if you can manage to secure one of the 3,000 tickets, which routinely always sell out within minutes of going on sale.
Whatever time of year you choose to visit, Vienna is a destination suffused with historic charm, where the sound of horses and carriages on cobbles can still be heard echoing around its narrower streets. It's impossible to not succumb to its love of culture, its imperial history and its laid-back pace.
Accommodation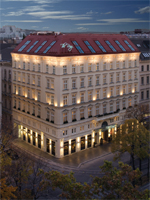 *
The Ring
, Kaerntner Ring 8, 1010 Vienna.
www.theringhotel.com
Vienna's 'casual luxury hotel' (
pictured right
), centrally placed and within walking distance of many of the main tourist sights. Offering 66 guest rooms and suites, with a great restaurant,
At Eight
, and gym.
*
Triest
, Wiedner Hauptstrasse 12.
www.dastriest.at
Hip and stylish, Terence Conran-designed hotel near the Karlsplatz.
*
Hotel Konig Von Ungarn
, Schulerstrasse 10, 1010 Vienna.
www.kvu.at
At the time of writing, the top-rated Viennese hotel on tripadviser.co.uk
Links
*
www.vienna.info
- Office website for the Vienna - download a pdf booklet for gay visitors to the city.
*
www.schoenbrunn.at
- Schönbrunn Palace website.
*
www.lifeball.org
- The Life Ball.
*
www.hosiwien.at
- Official Vienna Pride website.
*
www.qwien.at
- Gay tour guides of Vienna.
This article first appeared in Out In The City, September 2010 © David Hudson