Viva Vegas
June 2010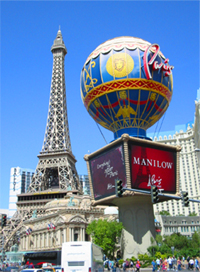 Did you think Las Vegas was all about gambling? David Hudson discovers a desert city that is continuing to evolve and grow...
Las Vegas
is one of those cities with a worldwide reputation. Even if you've never visited the place, you'll have an idea about what it has to offer. However, what it has to offer is changing, and it's changing fast. The Nevada city's population has almost doubled in the last ten years (now up to around 1.75 million for the greater metropolitan area), and it's currently hosting more visitors than ever - offering something in the region of 165,000 guest rooms across the city. To satisfy such a high turnover of experience-hungry tourists, it has expanded and diversified its attractions, and is quickly edging towards offering something for everyone - not least its many LGBT visitors.
How did the Las Vegas become the city it is today? The district was founded in 1905 and officially became a city in 1911. By the end of the century, it was the most populous American city to have been founded in the 20th century - a testament to its rapid growth over the preceding 95 years.
It earned its unique reputation through a series of key historic moments. In the early 1900s, local authorities legalised gambling in the state - leading to the arrival of the early casinos. In the 1930s, another law change meant that it became the only city in the United States where you could get married immediately, without any notice period and without needing a blood test. Wedding chapels sprung up - a tradition that continues to this day, with many hotels also offering lavish wedding salons and services. The casinos continued to spread during the mobster era of the 40s and 50s, but the resort underwent something of a lull until the arrival of
Caesar's Palace
in the late 60s. The iconic establishment was considerably smaller than it is nowadays - it has been repeatedly extended to the point where it now offers a staggering 5,000 guest rooms.
Other super hotels followed, with the
Mirage
in 1989 offering 3,000 rooms and a total resort experience. This was followed by the era of 'theme hotels' in the early 90s, such as
Excalibur
, the pyramid-shaped
Luxor
,
Treasure Island
and
Venetian
(complete with indoor canals!).
The Bellagio
raised the bar further, incorporating a host of luxury retailers such as Chanel, Gucci and Armani.
The arrival of the
Wynn
in 2005 heralded a new era in hotels. No longer 'themed' as such, but offering incredible levels of luxury, entertainment and dizzying interior design. It was followed by sister hotel
Encore
, and then the new City Center (sic) development in 2009 - offering
Aria
and
Vdara
. "We thought about who isn't coming to Las Vegas and why," explains
David Gonzalez
, a Public Relations Manager for the MGM/Mirage group, when talking about the evolution of Vegas hotels.
Vdara
(an MGM/Mirage resort) is possibly the world's biggest boutique hotel. Almost uniquely in Vegas, it has no casino, and features striking modern art throughout its public areas. It is clearly aimed at the more highbrow, culture-appreciating traveller than those easily tickled by a replica of the Eiffel Tower (available at
Paris Las Vegas
).
For the time being, the City Center developments are likely to be the last major hotels for some time. The global recession put an end to further plans, and many insiders believe that those 165,000 guest room are quite enough for the time being. There will need to be another surge in visitor numbers before many more super hotels are warranted. Most guest rooms are cheap. Luxurious rooms at
Encore
start at just $129 a night (around £75-80), while you can reportedly get a very nice room at some of the older hotels for as little as $40 a night. Most establishments want to spend your money in the casinos, theatres or restaurants, and so keep their room rates deliberately low.
Most of the aforementioned hotels can be found on the infamous Las Vegas Strip (
left
) - a four-mile stretch of
Las Vegas Boulevard
that cuts through the city, and which boasts the city's trademark neon signage. For the true Las Vegas experience, opt to stay at one of them. In fact, you'll not only find that many visitors have never left 'the strip', but some don't even venture from their hotel. The Wynn offers a dozen different restaurants (including the Michelin-starred
Alex
), bars, cafés and nightclubs, not to mention a couple of swimming pools, two theatres and the ubiquitous super casino. Why risk stepping outside into the Nevada heat?
For the first time visitor, Las Vegas can seem an intoxicating fantasyland. It's an adult playground with a candy store range of different attractions. Yes, there's the gambling (and most croupiers are unsurprisingly more than happy to show beginners the ropes), but nowadays, Vegas offers so much more for the discerning traveller. A stay at
Caesar's Palace
also now includes access to
The Forum
mall - an expansive selection of stores that includes such luxury retailers as Burberry, Christian Dior, Fendi and Versace. Vegas boasts the largest Luis Vuitton store in North America, and two of the largest outlets of Tiffany's and Tom Ford. If you're serious about your designer labels, Las Vegas will more than keep you sated. Even bargain hunters can have a field day. Jump in a cab and head for the
Premium Outlet
mall (towards the downturn area), where you can pick up discounted stock from the likes of American Apparel, Calvin Klein and Hugo Boss (www.premiumoutlets.com).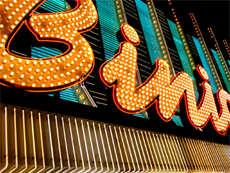 Besides the shopping and gambling, there are three other main reasons for a trip to Vegas; the shows, the spas and restaurants - all of which have consistently competed to go one better than their predecessors.
Shows in Las Vegas are often quite unlike those you'll find anywhere else. Revolutionary theatre group
Cirque Du Soleil
run an incredible seven different presentations across the strip. Many theatres are built especially to host particular shows, allowing for lavish set design. Whereas theatrical productions in London's West End or New York's Broadway have to be shoehorned into old theatres, in Vegas, the only limitations are the set designer's imagination. A personal highlight for me was Cirque Du Soleil's
Kà
- an astounding production that runs at the MGM Grand, and which includes incredible acrobatics and incredulous moving sets and platforms. It reportedly cost a staggering $220million to stage. The same company's
Love
- a tribute to the Beatles - has met with consistent success since opening at Mirage in 2006, while
Le Reve
, at Wynn takes place in and out of a giant swimming pool, with skilled performers diving from great heights and performing amazing synchronised routines. It's not a Cirque production, but easily rivals and excels that company's own underwater spectacular,
O
.
Big name performers are a regular feature in Vegas, and
Cher
is currently performing four nights a week at Caesar's Palace, with the UK's own
Matt Goss
taking over the smaller cabaret bar (Cleopatra's Lounge) at weekends. Celine Dion is set to return for another long residency in 2011, while other gay favourites such as Bette Midler and Elton John have also enjoyed lengthy Vegas runs.
If you enjoy serious pampering (and who doesn't?), Las Vegas has taken the art of the spa to whole new levels. As each hotel has opened, it has strived to offer a bigger and better spa experience. Most now offer an amazing array of treatment rooms to cater for everything from massage and manicures to hair removal and facials. You'll find saunas, steam rooms and dens where you can simply lounge around in a robe and read a magazine or enjoy some TV. I can personally recommend the men's spa at
Caesar's Palace
, which has its own 'artic ice room' for those who wish to cool down after stepping out of the sauna (with moisturising snow falling from the ceiling!). The spa at
Aria
boasts an incredible open-air pool overlooking the city and distant mountains, while the spa at
Wynn
simply has to be seen to be believed. Even if you don't have the money for specific treatments, just book yourself in for a day of lounging in the saunas and admiring the décor.
Food-wise, Las Vegas is a gastronomic dream destination. There are simply too many fine dining experiences to list them all here, but any of the following offer amazing dishes.
Mix
at
TheHotel
is a penthouse, super-stylish establishment from the acclaimed Alain Ducasse. Visit as much for the incredible view as the food and charming service. The intimate
L'Atelier de Joel Robuchon
at MGM Grand will be familiar to anyone who's visited the London branch, and which boasts Las Vegas' only three-star Michelin rating. The expansive and beautiful
Sage
at Aria offers a European-inspired interior and menu, and includes a dedicated Absinthe sommelier - who will demonstrate and introduce you to the venue's wide collection. Treat yourself to the jazz brunch at the
Wynn's Country Club
- which offers possibly the most tantalising array of fish, meat and grilled delights, not to mention pastries and cakes. The funky
Sushisamba
at
the Palazzo
will delight any lover of raw fish and teriyaki, while
Border Grill
at Mandalay Bay takes Mexican fusion to a whole new level (and the chef will talk you through his many tattoos if you ask him nicely!).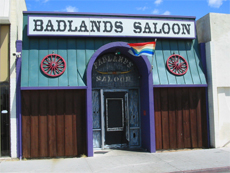 In terms of gay scene, the nearest venue to the strip is
Krave
(www.kravelasvegas .com) - a warehouse style gay club beneath the huge
Planet Hollywood
hotel. It's open every night of the week with different promotions. There's also a Sunday evening gay soirée at the Beatles-inspired
Revolution bar
in the
Mirage
(www.mirage.com). Away from the strip, the city's gay bars can be found in what is affectionately known as the
'Fruit Loop'
- a block on
Paradise Road
near East Naples Drive, where you'll find the likes of
Piranha
(www.piranhavegas.com), the macho
Buffalo Bar
and - popular with boys and girls -
Freezone
(www.freezonelv.com). A little further north is the Village Square Commercial Center on East Sahara Avenue, which offers
Spotlight
and the
Badlands Saloon
- a country and western theme bar that - during my visit - hosted a Las Vegas Pride tribute night in honour of Nashville's Grand Ole Opry! The Commercial Center also has the local
South Nevada Gay Center
(953 E Sahara Avenue, Las Vegas, Nevada 89109 - www.thecenterlv.com), a community-run establishment which offers free internet and very friendly and helpful staff.
If venturing away from the strip, do also pay a visit to
Fremont Street
in the downtown area. This is where Vegas truly began, before the super hotels took over further down the strip. It still offers plenty of old-style casinos and vintage neon, while in the evenings if offers the 'Fremont Street Experience', with a video roof offering one of the most impressive and bizarre displays in town - you have to see it to truly appreciate it (or check it out on youtube). For those wishing to travel further afield, Vegas is also an excellent base for day trips to the nearby
Hoover Dam
(about 40 minutes outside town) or the
Grand Canyon
.
Las Vegas is truly unlike anywhere else on earth. It's a city built on smoke and mirrors; marble and neon. It's a star-spangled palace of excess - a quality that may both repel and attract. Increasingly, it's working hard to break down the resistance that some might have towards it, and its millions of annual visitors are not just being tempted by the traditional "what happens in Vegas stays in Vegas" ethos. Between the fine dining, high-end shopping, excursions to the desert, glitzy shows and modern art... a trip to the city is increasingly what you make of it.
Links
* For more information on Las Vegas, visit the official website of the Las Vegas Convention and Visitors Authority (LVCVA) -
www.VisitLasVegas.co.uk
- T: 020 7367 0979
* British Airways offers daily flights from London Heathrow to Las Vegas from £657 return including taxes travelling in June 2010. To book visit ba.com or call British Airways on 0844 493 0787.
Food
*
Julian Serrano
@ Aria -
www.arialasvegas.com/dining
*
L'Atelier de Joel Robuchon
@ MGM Grand -
www.mgmgrand.com
*
Mix
@ thehotel, Mandalay Bay -
www.mandalaybay.com/dining
*
Sage
@ Aria -
www.arialasvegas.com/dining
*
Sushisamba
@ Palazzo -
www.sushisamba.com
*
Serendipity 3
@ Caesar's Palace -
www.caesarspalace.com
Accommodation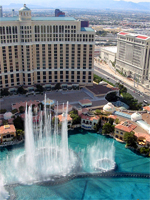 *
Bellagio
(
pictured right with its famous fountains
), 3600 Las Vegas Boulevard South, Las Vegas, NV 89109. 001-702-737-3003.
www.bellagio.com
*
Caesar's Palace
, 3570 Las Vegas Boulevard South, Las Vegas, NV 89109. 001-800-634-6661 -
www.caesarspalace.com
*
Encore
, 3131 Las Vegas Boulevard South, Las Vegas, NV 89109. 001-702-770-7171 -
www.encorelasvegas.com
*
Vdara
, 2600 West Harmon Avenue, Las Vegas - (866) 745-7111 -
www.vdara.com
*
Aria
, 3730 Las Vegas Boulevard South, Las Vegas, NV 89109. 001-866-359-7111 -
www.arialasvegas.com
This article first appeared in Out In The City, June 2010 © David Hudson